AVDALOVIC: "I THINK WE KEPT ENERGY AND STRENGTH FOR SEMIFINALS AGAINST CRVENA ZVEZDA"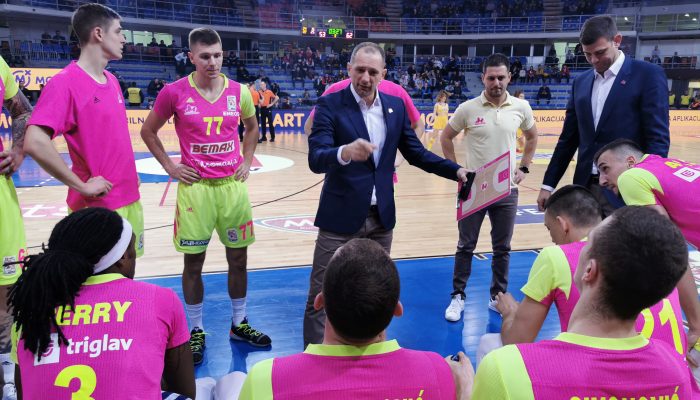 Mega Bemax have advanced to the semifinals of the Radivoj Korac Cup after great run 22:1 at the end of the third and beginning of the fourth quarter they celebrated with 82:73 (24:22, 15:25, 25:16, 18:10) against Sloboda from Uzice. Mega will meet with Crvena zvezda mts in the semi-finals on Saturday, February 15 at 5 pm in hall Cair Hall, who beat BKK Radnicki with 107:67.
Due to the exclusion due to two technical errors, coach of Mega Dejan Milojevic was sent off at the end of the half, so the assistant coach Vule Avdalovic led team until the end of the match. Avdalovic at the press conference said that he believed that the team had saved energy for the semi-finals:
"I would like to congratulate Coach Vladimir Lucic on the match shown in the first half. As an assistant coach I have the opportunity to scout a lot of teams and I think he does a great job in Uzice. In the second half we went very aggressively with the defense. I would praise Andrija Marjanovic, who brought a lot of energy in the game, but also Nikola Tanaskovic, who do not play as much in the Adriatic League, but showed that they can be counted as well. Andreja gave only two points, but his energy gave a reversal. more calm on offense, I think we have saved energy and we will have enough strength for the match against the Crvena zvezda. We have managed to get a very important game despite a poor three-point shot. If we continue to play like this on defense, I think we can expect uncertain match against Crvena zvezda",
said Avdalovic.
Nis born Andrija Marjanovic brought in a lot of energy in the second half and was one of the most responsible for Mega's turnaround. Marjanovic said at the post-match press conference that Mega deservedly won the match:
"I would like to congratulate Sloboda on a fair and correct game. We opened match too soft, we did not show what we can do, our opponents came in better, but we have shown in second half how to play and deservedly turned match in our favor. We are a young team, so it happens. I think we have time to go back to the semifinals to show what we can do that from the beginning",
said Marjanovic.
Photo: Mega Bemax