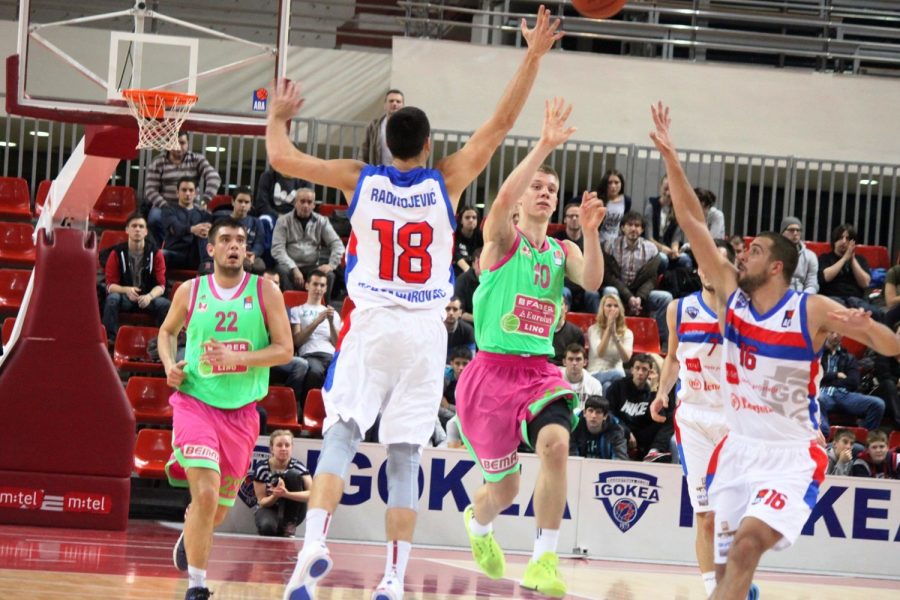 WEAKENED MEGA STOPPED IN LAKTASI
Players from Mega Leks failed to make an another reversal as they lost from Igokea with 80:75 (25:17, 19:19, 25:26, 11:13). Mega was able to come back from minus 13 points and briefly to led but poorly played end of the third quarter and the beginning of the last period, costs Mega victory as Igokea in that period took the key advantage. Milojevic in this match due to illness could not count on Nikolic, who didn't even traveled with the team, as well as the Kaba and Zagorac, according to previously established plan of recovery, hunkered match on the bench.
Milojevic started the match this five: Jaramaz, Luwawu-Cabarrot, Simeunovic, Savovic and Veljkovic. Very weak start of Mege and after 4 minutes Igokea reach double-digit lead, 12:2. Luwawu-Cabarrot managed to initiate Mega in the attack and later Jaramaz connected two triples and didn't allow further raise of difference. The first quarter score was 25:17.
The beginning of the second quarter was marked by Ivanovic who quickly binds 7 points and Mega reduced to minus 4, 28:24. The home team has managed to come back with two triples for plus 10 after which Milojevic requested time-out. By the end of the half Jaramaz with a great entrance and points after the offensive rebound, as well as with the triple from Ivanovic, did not let Igokea reach bigger diffence and the teams went to rest with 44:36.
The lack of players in the paint was evident at the break after which Igokea had 14 offensive rebounds. The most efficient in the ranks of Mega were Jaramaz with 12 and Ivanovic with 10 points.
The second half began far better for Mega. First Luwawu-Cabarrot hit a three, then the points linked Savović and Jaramaz. Pavlovic shined with 3 rebounds in the attack, after which he has a total of 5 points. Igokea briefly comes to plus 5, 58:53 but Savovic continues with great performance in the third quarter, bringing first lead to Mega in 28th minute, 58:59. However, Igokea with series of 7: 0 in the finish reaches 69:62 before the last 10 minutes.
The attack Mege is completely stopped in the last period after more than 5 minutes failed to score. Igokea separated to plus 12, 74:62. Post in the attack interrupts Aranitovic from the free throw line, but by the end of Mega failed to jeopardize the home side's advantage and iIgokea eventually won by 80:75.
After the 19th round, Mega Lex it 4th in ABA league with a record 12-7 while Igokea collected 7 wins and 12 losses.
Mega in the next round on January 17th welcomes Slovenian Tajfun.
Igokea: Katnic, Pasajlic, Krstic 14, Pesakovic 9, Komatina 8, Mikulic, Booker 4, Milosevic 3, Sibalic 21, Radivojevic 21, Lulic, Talic.
Mega Leks: Simic, Aranitovic 7, Jaramaz 22 (5 rebounds and 4 assists), Veljkovic 1, Ivanovic 12 (6 rebounds), Savovic 13 (7 rebounds), Pavlovic 5 (6 rebounds), Luwawu-Cabarrot 15, Zagorac, Simeunovic Jankovic.
Photo: Nenad Vuruna / Igokea / ABA League