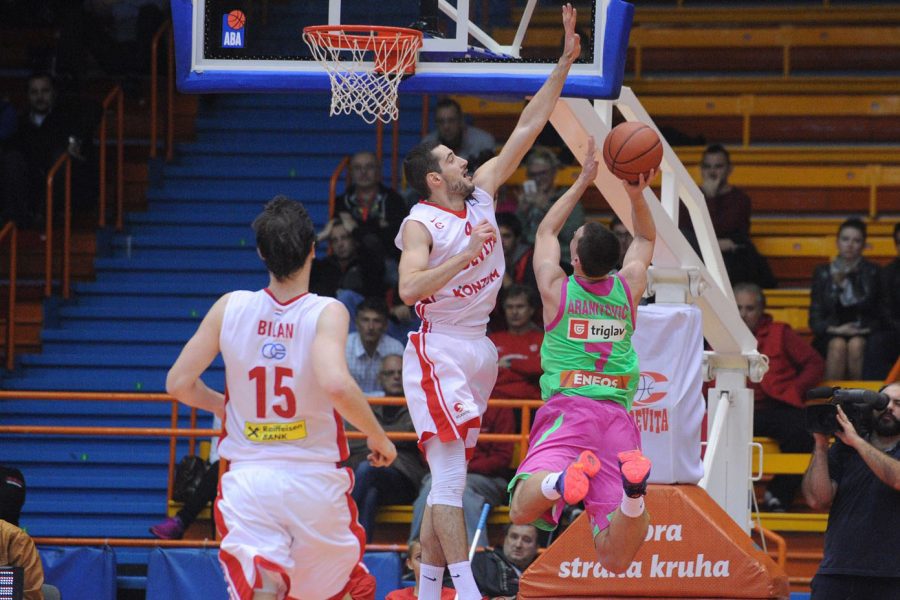 MEGA STOPPED ONE STEP FROM UPSET IN ZAGREB!
Players from Mega Leks in the last quarter had an advantage of 6 points against Cedevita but failed to reach to the upese as the home team with a series of 11:0 turned the match and came to victory 78:68 (21:17, 16:15, 13:21 , 28:15). Mega broke the streak of 5 wins so with the score 6-3 is currently at second place with Cedevita. In addition to longer injured Zagorac, the match due to illness skipped Pavlovic while Kaba after a long absence due to injury was on the team but did not play.
Mega began the match with Jaramaz, Aranitovic, Luwawu-Cabarrot, Nikolic and Samardziski. The two ramps at the beginning of the match by a player of Mega Leks while on the other end of the field Samardziski in addition to points, had a 2 great assists to Aranitovic and Luwawu-Cabarrot. The result after 3 minutes was 5:6. In the following minutes the teams alternated in the lead and Cedevita wtih shots from distance reaches plus 4 at the end of the first a quarter, 21:17.
Mega had a bad start of the second quarter and the home team took the 8 points lead. Mega correspond with good defense but missed a couple of shots from distance and Cedevita reached the double-digit lead, 30-20. A series of missed shots was interrupted by a triple from Aranitovic, Jaramaz great dunk after steal and Jankovic tough lay-up. Aranitović first he steals the ball and is in the following attack of Cedevit had a great block on Bilan. Three points from Luwawu-Cabarrot, and Mega Leks arrives at just minus 1, 33:32. Weak finish of second quarter players and the half-time results was 37:32 for Cedevita.
The second half began with a series of Mega Leks 5:0 for a draw, 37:37. However, despite the excellent defense, Mega fails to score a couple of shots and Cedevita went to plus 5, 44:39 after 25 minutes. A series of missed shots for 3 points brokre Nikolic with 2 triples, and minus 1 after 29 minutes, 48:47. Jankovic scores in the paint, Mega took the lead for the first time since the opening minutes of the game. Another good defense from Mega Leks and in the last attack Luwawu-Cabarrot manages to score for 50:53 at the end of the third quarter.
Mega started good at the beginning of the last quarter, with points of Ivanovic and Jankovic comes to plus 6, 52:58. Luwawu-Cabarrot returns triple from Pullen and took back lead to 6 points. After that, the defens of  Mega Leks started making mistakes and Cedevita over Babic and Pullen makes a series of 11:0 to 68:63. Series broke with Jankovic dunk after steal from Ivanovic but in the next attack Jankovic missed both free throws. After that Babic hit a key three pointer for Cedevita which eventually reaches the victory 78:68.
Mega Leks in the next 10th round of ABA league on November 14th, from 7 PM in Sremska Mitrovica welcomes Cibona.
Mega Leks: Simic, Aranitovic 6, Djokovic, Jaramaz 5 (4 assists), Veljkovic, Ivanovic 9, Samardziski 10 (7 rebounds), Luwawu-Cabarrot 20 (5 rebounds), Kaba, Simeunovic, Nikolic 8 (4 rebounds), Jankovic 10 (4 rebounds).
Cedevita: Pullen 17, White 11, Pilepic 5, Babic 18, Zganec 4, Musa, Bilan 8, Mazalin, Gordic, Arapovic 15.
Dejan Milojevic:"Congratulations to Cedevita for deserved victory. Today when we were supposed to play the best defense, we played the worst. In the last quarter we have received 28 points. When they played a zone, we were attacking in only with shot. We shot to many attempts for three points, even 34 times which is not characteristic for our games and there are the reasons of our defeat. We turn our attention now  to the game with Cibona".
Aleksandar Aranitovic: "We knew what kind of match to expect. Cedevita is in great form, in Euroleague they won 2 matches on the side, Efes and Armani. Today has ruled our bad defense in the key moments and that we missed some open shots. Next for us is match with Cibona and we will try to win it".
Photo: Mega Leks