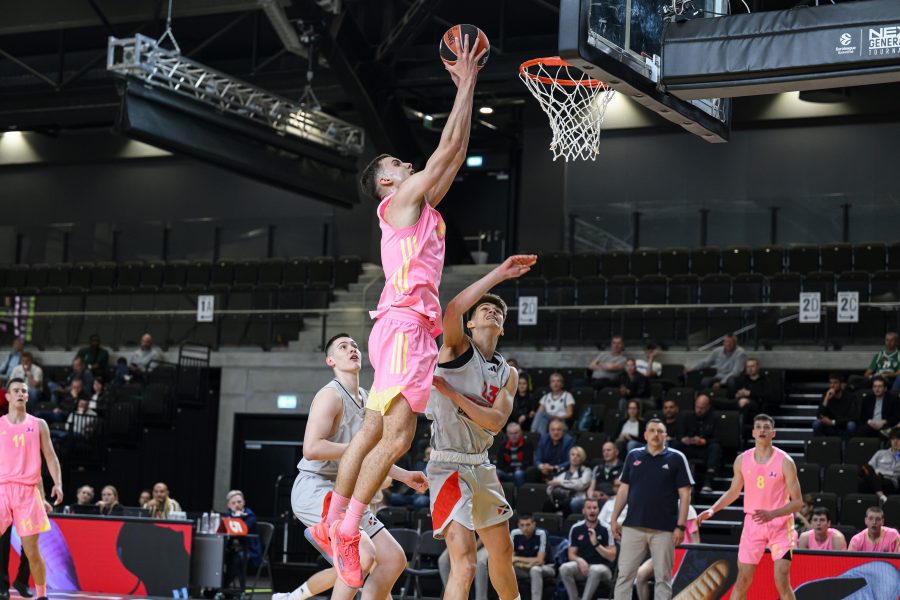 JUNIORS OF MEGA MIS LEFT WITH NO CHANCE FOR THE FINAL OF THE JUNIOR EUROLEAGUE AFTER A DEFEAT BY THE NEXT GENERATION TEAM
The juniors of Mega MIS opened the final tournament of the Junior Euroleague in Kaunas with a victory over the host Zalgiris after a great turnaround. Still, in the second round of the group stage, they suffered a defeat against the Next Generation team 81:89 (23:28, 12:17, 26:20, 20:24). Petri Koponen's team was better in the first half, waiting for the big break with a double-digit surplus. Still, Dragoljub Avramović's team fought back in the third quarter and fully returned to the match. A big fight followed in the decisive period, Mega came within three points, but the Next Generation team broke away in the middle of the fourth quarter, regained a double-digit advantage, and, despite the great effort of Avramović's team, managed to preserve it.
The team led from the bench by the former Finnish basketball player Koponen thus achieved the second victory in Group B, and before the last round of the first stage, is on the threshold of the final. At the same time, it is certain that Mega, in the triangle with the Next Generation team, and Zalgiris no longer have a chance to reach first place and advance to the final and will not defend the title won last year in Belgrade.
In the second group stage game, Avramović's team was led by Filip Jović with 23 points and nine rebounds for a PIR of 27. Asim Đulović added 17 points, Danilo Dožić 12, while Urban Kroflič scored in double figures with 11 points. Andrej Mušicki finished the match with two points but also 13 assists and four steals.
On the tournament's third day, the Mega MIS juniors will compete with Joventut, and the match is scheduled for Saturday, May 20, from 12:30 pm.
Mega MIS: Šipčić, Savanović, Đulović 17, Marković 3, Mušicki 2 (13 as), Kroflič 11, Ćurčić 6, Dožić 12, Srzentić, Jović 23 (9 sc, 27 in), Sibi 2, Milosavčević 3
Schedule (Group B):
Thursday
Juventud – Next Generation team 78:81
Žalgiris – Mega MIS 70:73
Friday
Zalgiris – Juventud 69:64
Mega MIS – Next Generation team 81:89
Saturday
12:30 pm Juventud – Mega MIS
2:45 pm Next Generation team – Žalgiris
Sunday – finals
11:30 am Group A winner – Group B winner
Photo: 2023 Euroleague Basketball