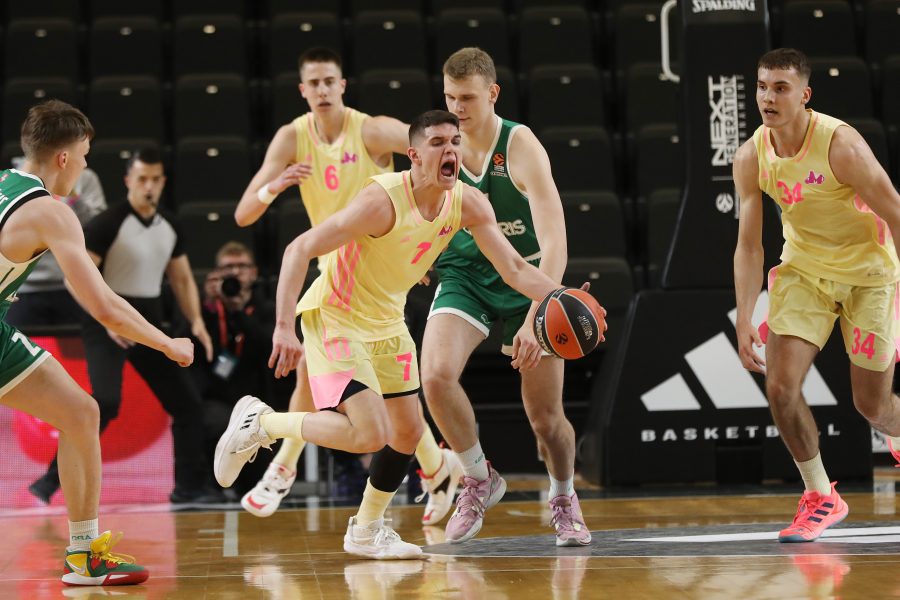 JUNIORS OF MEGA MIS TOOK DOWN ŽALGIRIS AFTER AN INCREDIBLE COMEBACK AT THE START OF THE JUNIOR EUROLEAGUE FINALS IN KAUNAS
What a match and what a victory for the juniors of Mega MIS! The Draguljub Avramović team triumphantly started the throne's defense, although it did not seem that the duel with the host of the final tournament, Žalgiris, would end well. In the end, after a remarkable turnaround, they won with a score of 70:73 (30:11, 16:24, 10:26, 14:12). Avramović's team was down by 23 points in the second half. However, they did not despair and lose their head and patiently melted the deficit that led the match to an uncertain ending. Andrej Mušicki scored critical points in the last minute after a drive and under a foul. He also made an additional free throw for the crucial 72:68 with 17 seconds left.
Ultimately, Bogoljub Marković led Mega with a double-double of 22 points and 11 rebounds for a PIR of 30. Asim Đulović added 17 points, with seven rebounds (PIR 25), while Filip Jović was on the verge of a triple-double with 19 points, ten rebounds, and as many as eight steals (PIR 17). Hero Mušicki scored seven points.
On Friday, the Mega MIS juniors will probably have a crucial duel in the group stage against the Next Generation team, which defeated Joventut 81:78 at the start. The meeting with Petteri Koponen's team is scheduled for 2.45 pm.
Mega MIS: Šipčić, Savanović, Đulović 17 (7 sk, 25 in), Marković 22 (11 sk, 30 in), Mušicki 7, Kroflič, Ćurčić, Dožić 2, Srzentić, Jović 19 (10 sk, 8 uk), Sibi , Milosavčević
Schedule (Group B):
Thursday
Juventud – Next Generation team 78:81
Žalgiris – Mega MIS 70:73
Friday
12:30 pm Zalgiris – Juventud
2:45 pm Mega MIS – Next Generation team
Saturday
12:30 pm Juventud – Mega MIS
2:45 pm Next Generation team – Žalgiris
Sunday – finals
11:30 am Group A winner – Group B winner
Photo: 2023 Euroleague Basketball