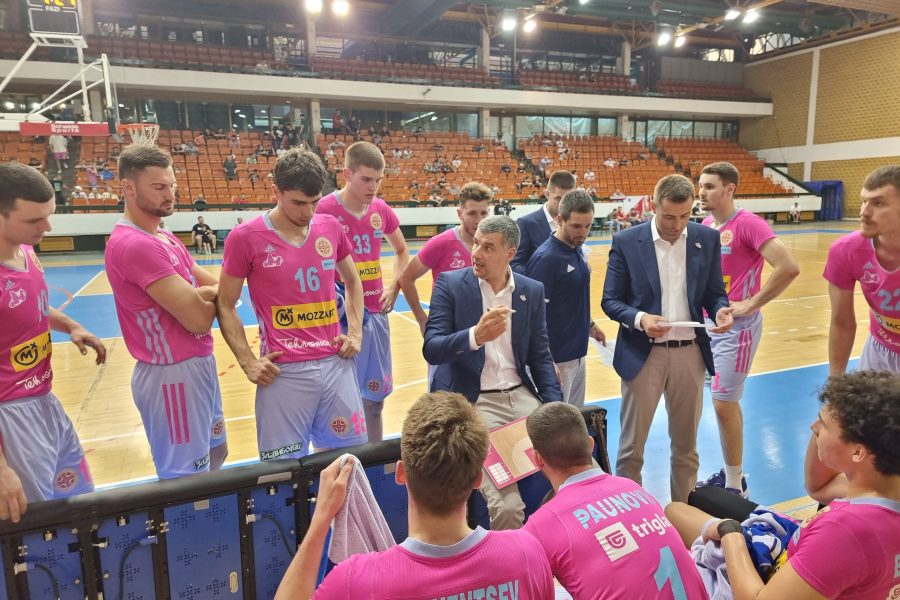 JOVANOVIC: "WE MANAGED TO CONTROL JUMP AND TO HIT SOME BRAVE SHOTS"
The players of Mega Mozzart defeated Vojvodina in Novi Sad with 79:83 (21:25, 24:17, 19:21, 15:20) within the second game of the semifinals of the Super League playoffs, and in that way they won 2-0 in series advanced to the finals of the first part of the playoffs. Coach Vladimir Jovanovic's team was trailing with 79:72 in less than three minutes until the end, but they made a big comeback and with a run of 11:0 came to victory and placement in the finals.
In the final of the first part of the playoffs, Mega will meet the better team from the semifinal series Borac – Mladost, where the current result is 1:1, and the first match will be played on Sunday, May 22, in the Mega Factory hall in Belgrade.
At the press conference after the game, Mega's coach Vladimir Jovanovic pointed out that it was a turning point when Mega managed to control the jump after the misses of Vojvodina and to hit brave shots after that:
– In the announcement of the match, I said that I expect a completely different match. We played the first game at our maximum, very well at both ends of the field, and Vojvodina gave up very quickly. I expected a reaction, and we got it. First of all, they slowed us down with that combined defense, we didn't have a good flow of the ball and open shots. They had dominance in the offensive jump, and that was a big problem for us. They also looked for self-confidence in that, and out of that self-confidence, they threw some shots. The match was open because we had 11 turnovers, which were not forced, but a consequence of the drop in concentration. It was a turning point when we managed to control the jump on their missed shots and took some brave shots that we hit. It would not be undeserved if Vojvodina won, and that is why I congratulate Vojvodina not only on this game, but on the entire season, and I wish them all the best in the coming period. I'm glad that basketball is very good in Novi Sad, and I hope it will be even better,
said coach of Mega.
Mega's Guard Samson Ruthentsev finished the game with 16 points, and at the press conference after the game he stated that in the end, good defense and jump control were the key to victory:
– This was a difficult match for us. We won the first game on our field, and they entered the second game with completely different energy. They were very motivated, but still the final outcome of the game depended on us and our defense. In the end, the key was our 11-0 series, which we made thanks to good defense and jump control,
said Ruzhentsev.
Photo: Mega Mozzart