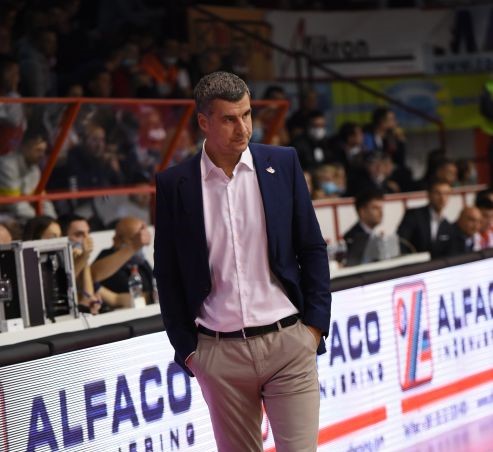 JOVANOVIC: "WE DIDN'T HAVE ENOUGH FOCUS IN DEFENSE, OUR YOUTH CAN NOT BE OUR ALIBI"
In the 4th round of the AdmiralBet ABA league, Mega Basket lost to Borac in Cacak with 80:68 (13:18, 29:14, 18:24, 20:12). Coach Vladimir Jovanovic's team started the match well in a game full of reversals, and in the second quarter, Borac turned it around and reached a double-digit advantage. In the continuation, Mega managed to take a short lead, but the home team punished Mega's mistakes with threes and came to victory in a calm finish.
At the press conference after the game, Mega's coach Vladimir Jovanovic pointed out that his team was without enough focus in defense:
– I would like to congratulate the Borac on the victory. Even before the game, I said that they made a team that shows that this season they have ambitions to make a better result than the previous competition year. Considering that I am from Cacak, I am very glad that basketball is not coming back, but has already returned and every year it gets better and better. I have to say that the atmosphere in the hall was more than great – said Jovanovic and then analyzed the match in more depth:
– What I feared came true in the end. Borac cultivates attacking basketball, and we managed to control them from quarter to quarter. However, when there were falls, and here I primarily mean the jump in the attack and when we were without enough focus in the defense of their shooters who are very good at it, given that the whole team shoots great for three points, the result went worse. In the end, we couldn't find a player in form who would give us a slightly more fluid attack, and we fell for some things that we knew would cause us problems. I would like to congratulate Borac once again, wish him a lot of happiness and health in the continuation of the season and especially I praise the audience. My team is very young, but that youth must not be an alibi. We continue to work and we will try to grow and be as good as possible as the season progresses,
said Jovanovic.
Photo: BC Borac/Dusko Radisic