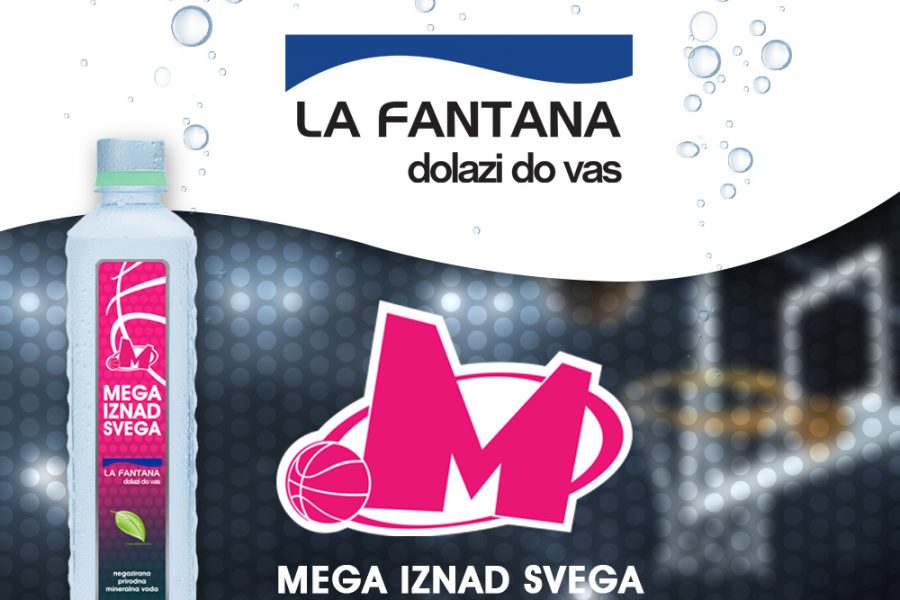 COMPANY "LA FANTANA" RENEWED PARTNERSHIP WITH BC MEGA BASKET
With the signing of a new contract between BC Mega Basket and the company "La Fantana", the cooperation between the two successful brands continued, so the natural mineral water "La Fantana" will be the official water of BC Mega Basket in the upcoming season.
La Fantana is a natural mineral water of PREMIUM quality that was filtered through thousands of years of sediments of Kopaonik, Goc and Zeljani, to come to the surface again in the untouched nature of Mitrovo Polje. The quality of the water is proven by an independent state body, the Institute for the Protection of Public Health from Krusevac, and the crown on taste and quality is put by the International Institute from Brussels, which has awarded the quality of La Fantana water for the second time. At La Fantana, however, they are most proud of the fact that they do not treat water biologically, chemically or mechanically, but what kind of water is in the source, that quality and taste comes to the consumer. The complex of minerals with which the mentioned sediment improves the water of La Fantana, as well as its PH value, classifies it in the premium class of water.
General Manager of Mega Basket, Goran Cakic, pointed out his satisfaction that all categories of the club will have water of the highest quality at their disposal in the upcoming season as well:
"We are very pleased with the continued cooperation with La Fantana, which will provide all categories of the club with top quality water in the upcoming season. We are especially pleased that in agreement with Mega, La Fantana will once again produce a special series of bottled water with club's features. We had a great collaboration last season and I'm sure we will continue to develop it to our mutual satisfaction",
said Cakic.
Sales Director of La Fantana Milan Milicic pointed out that the natural continuation is the cooperation between La Fantana and Mega:
"The cooperation between Mega and La Fantana is a completely natural solution. We both have premium quality. La Fantana comes from the highest Serbian mountains, just as Mega's players are tall and as the slogan itself says "Mega above all". We both fully support the preservation of all natural values ​​and work hard every day to be even better, La Fantana on the market and Mega on the field. Our goal is not to compare ourselves with others, but to be the best we can be",
Milicic said.
Foto: Mega Basket/La Fantana