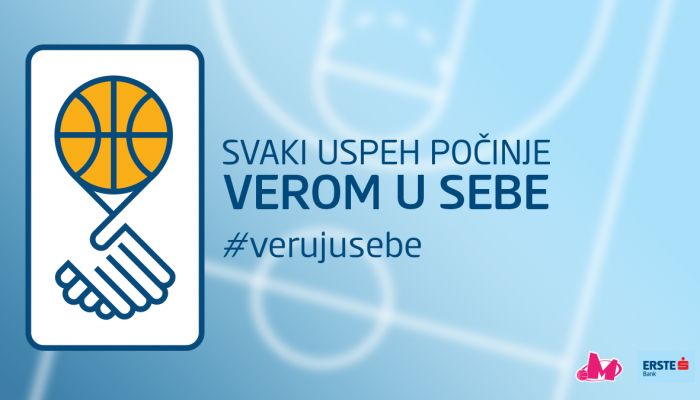 ERSTE BANK IS THE NEW SPONSOR OF BC MEGA BASKET
Basketball club Mega Basket and Erste Bank signed a sponsorship agreement thanks to which Erste Bank became a partner of this club in the next basketball season. In this way, the bank will provide support to the club, which has been a the best place for basketball talents for more than two decades, and whose numerous players have continued their successful careers in European leagues, and some of them have become NBA stars.
Encouraging young people to realize their full potential is one of the pillars of Erste Bank's socially responsible business, which it has been implementing for years through financial education, support for starting a business, and through various types of support for projects and initiatives in culture, arts, education and sports. By remaining consistent with such a commitment, the bank, through this sponsorship, wants to additionally encourage young athletes to believe in themselves and persevere in achieving their ambitions.
"We are happy that with this partnership we can contribute to the further development of a successful club, which, in addition to excellent sports results, is also recognizable by many of today's already celebrated basketball players who grew up in it. Athletes are among the best ambassadors of our country and we are pleased to, in accordance with our concept "Believe in yourself", support young hopes at the beginning of their sports careers, since faith in yourself is as important for success in sports as they are both dedicated work and talent", said Aleksandra Kosanović Strizak, Director of Marketing and Communications at Erste Bank.
General Manager of Mega Basket Goran Cakic emphasized the importance of Erste Bank's support in the coming period:
"We have another season ahead of us that will be full of challenges, and for that reason the support of Erste Bank is especially important, which has recognized everything we have done in previous years. I believe that this is the beginning of a very successful cooperation for both sides and that we will justify the trust shown to us in the next season as well", said Goran Cakic.
Photo: KK Mega Basket