JOVANOVIC: "WHEN WE DRAW THE LINE, WE HAVE TO BE SATISFIED WITH THIS PART OF THE SEASON AND PLACEMENT TO THE FINALS"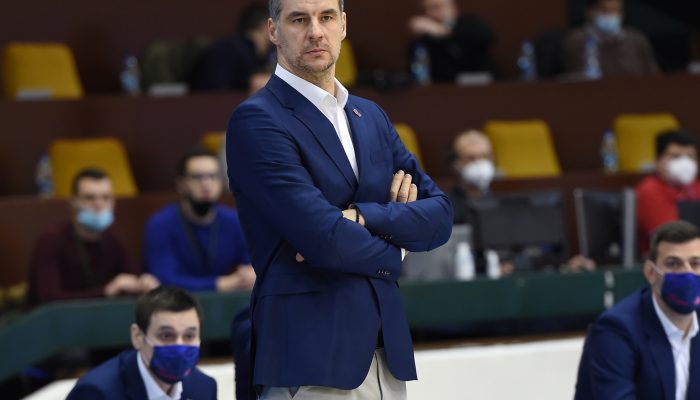 Mega Soccerbet was left without a trophy in the finals of the Triglav osiguranje "Radivoj Korac" Cup, which was held in Novi Sad, as Crvena zvezda mts celebrated with 60:73 (21:19, 19:17, 8:17, 12:20). Mega fought for the second trophy in its fourth final, but despite advantage of four points at halftime, they played weaker in the second half, so the Crvena zvezda came to victory and the trophy.
At the press conference after the match, coach of Mega Vladimir Jovanovic pointed out that despite this defeat, his team has a good season behind it:
– I think we showed two faces, as in the first two games. We scored 40 points in the first half, and allowed Zvezda to score only 36, which is not much considering their quality. We controlled their top scorer Lloyd well, which was our priority. We entered the second half at a slower pace, of course thanks to the opponent, and our problems in the attack were followed by problems in the defense. They had a large number of rebounds in attack, thanks to which they scored over 20 points from the second chance, which is a lot. My young team didn't hold up, we missed a better flow of the ball in attack for a better score. We have a very good season with the young team. At this moment, we still aspire to be a part of the ABA league playoffs, there are also big teams with big budgets competing, who play European competitions. When we draw the line, we must be satisfied with this part of the season and the placement to the finals. It's a big deal for these guys, because except for Tepic, I don't think anyone played the Cup final, maybe a few of them, who were reserves, but not with the main roles,
said coach of Mega.
Photo: Mega Soccerbet/Ivica Veselinov