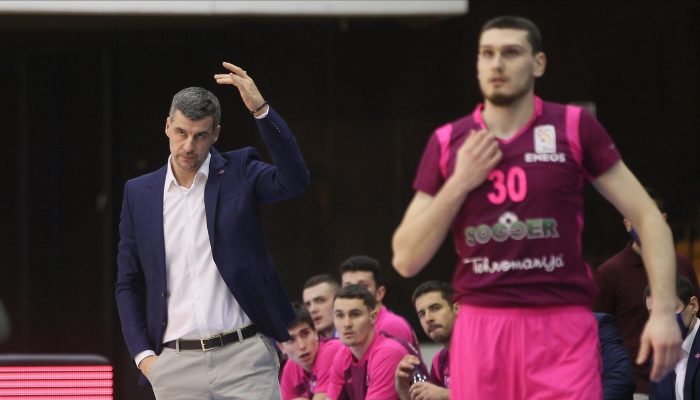 JOVANOVIC: "WITH GOOD DEFENSE WE WON THE GAME, I WANT GOOD AND QUALITY GAME IN FINALS"
Mega Soccerbet advanced to the finals of the Triglav osiguranj "Radivoj Korac" Cup, which is being held in Novi Sad, as they defeated Vojvodina in the semifinals with 82:75 (25:21, 25:22, 11:20, 21:22). After a great lead in the first half which was up to 21 points, players of coach Vladimir Jovanović managed to defend the victory in the continuation of the game, although Vojvodina came to six points behind, so on Sunday at 9 pm in the big hall SPENS in its fourth final will fight for the second trophy of the "Radivoj Korać" Cup against the better one from the duel Partizan NIS – Crvena zvezda mts.
At the press conference after the game, Mega's coach Vladimir Jovanovic pointed out that his team deservedly advanced to the cup finals with their engaged defense:
– I have already mentioned in the preparation, not only of this match, but also at the beginning of the tournament, that every team that comes here has its own ambitions. Also, it is constantly pointed out, almost as a cliché, that the Cup is the easiest competition to win, but primarily because it consists of a small number of matches. I would not agree with the statement that it is easy to reach the trophy and that is why I expected this match to be of high intensity and quality. I think we played very well in the first half. However, in the first quarter, we allowed the rival some offensive rebounds, which caused us certain problems. However, we established control of the jump and finished the first half with a convincing advantage. In the second half, Vojvodina reacted well both tactically and energetically, and put us in a situation where we have to defend ourselves. It took us a while to catch our rhythm and get to the game, and in the end we did that primarily with engaged defense. We solved the game with a good game in defense, regardless of the number of points scored. Congratulations to Vojvodina on everything they have done this season and I wish them good luck in the continuation of KLS, and congratulations to my guys, not only on these two games in the Cup, but on the games so far and I wish us a good match and quality play in the final,
said coach of Mega.
Foto: Mega Soccerbet