MILOJEVIC: "I AM PROUD HOW MY TEAM PLAYED"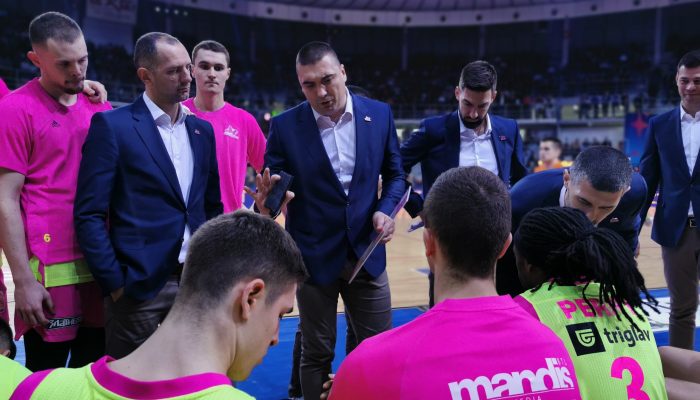 Mega Bemax played a fantastic match in the semi-finals of Radivoj Korac's Cup against Crvena zvezda mts, they had a win in their hands, but Zvezda triumphed with Baron's three pointer in the final seconds with 79:80 (24:17, 9:23, 27:18, 19:22). and made it to the finals, as Perry did not hit a hard shot from the corner in the remaining second.
Guard of Mega Bemax, Luka Asceric said at the post-match press conference that in the end, the luck factor also played a role:
– I would like to congratulate Zvezda on the finals. It was a very nice game. I think both teams deserved to make it to the finals. In the end, Baron three pointer decided, our three point shot did not enter, but there was also a luck factor that played a role. We did our best, we played firmly in defense, but we were also good in attack. We are a young team, but I don't think we were scared of winning. We had 79:74 on the minute to finish, Baron hit one three maybe a little harder. We didn't play our best next attack, we maybe didn't get used to finishing such games, but I think we could have made it to the finals,
said Asceric.
Mega Bemax coach Dejan Milojevic said he was proud of the way his team played:
– Congratulations Zvezda on winning. We played a solid game, defensively we were really good throughout the game, however, it often takes for some great things in life to have some luck. Billly Baron tossed very hard threes, we didn't score some points, but we move on. Anyway, I'm proud of the way we played. Going forward, our goal is to ensure our survival in the ABA League,
said Milojevic, and on the statement of journalists that Mega played an excellent match with the Euroleague team, Milojevic stated the following:
– The second part of the season in the ABA league we play well. We played against some strong teams, in Ljubljana we lost similarly, in Zadar we received strong threes, but we played much better. My first sentence in the locker room was similar. I told the players "if we played like this whole season, we would fight for the playoffs." Hope the guys keep going like this.
Asked by a reporter if he would have made a foul in the last attack in a repeated situation, Milojevic pointed out that he would repeat the same thing:
– I would absolutely repeat the same thing. When you play with Zvezda, you don't want an overtime. If it was a smaller quality team, maybe I would. The question is whether we would score points in that last attack. Baron gave a three that would go in once, four times would not, and I would repeat all the same if we played again,
said Milojevic.
Photo: Mega Bemax