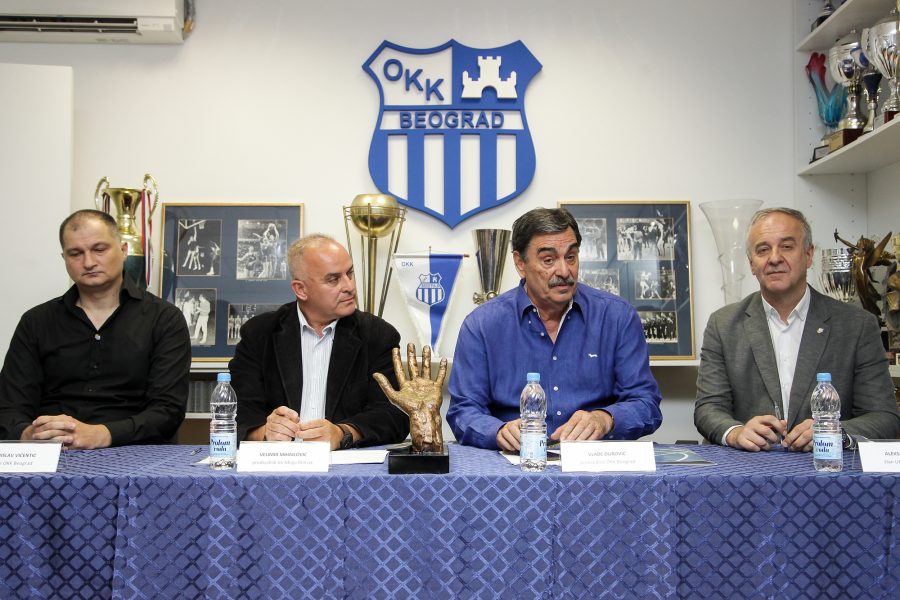 MEGA BEMAX AND OKK BEOGRAD SIGNED COOPERATION AGREEMENT
Mega Bemax and OKK Beograd signed a contract on sports and technical cooperation in the premises of Sport Center Radivoj Korac, which among other things means that young players of Mega Bemax will play for OKK Beograd in the Basketball League of Serbia, while at the same time Mega Bemax will financially support a club of rich tradition in its trying to get back to the path of glory.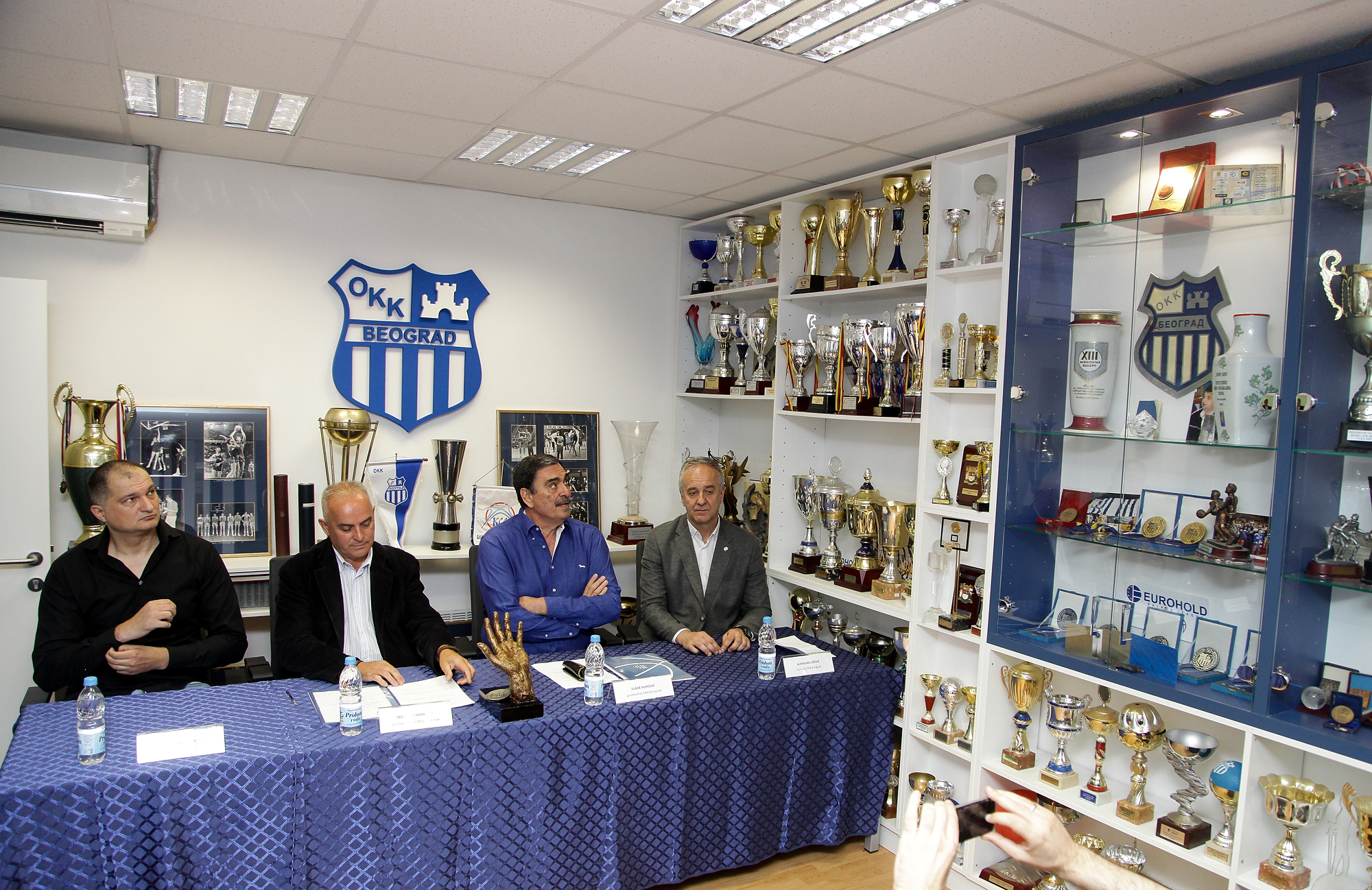 Vlade Djurovic, the president of OKK Belgrade and well-reputed coach at the beginning of the conference, reminded of the glorious history of the club, which won four titles of the champions of the country and three trophies of the national cup in 73 years of existence, with the placement in three semi-finals of the European Champions Cup. He reminded that the jerseys of the popular "Klonferi" were worn by giants such as Radivoj Korac, Borislav Stankovic, Aleksandar Nikolic and many other legends of Yugoslav and Serbian basketball. Djurovic highlighted what was done in the OKK Belgrade in the previous period and emphasized the importance of cooperation with Mega Bemax, which became a symbol of good work with young players:
– We took over the club in September last year, we are happy with what we have done in the meantime. Behind us is a thrilling year, we had huge debts, according to former players, trainers, halls, there were court costs. With great dedication, we have lowered this debt to 65,000 euros and with this agreement we take the time-out for OKK Belgrade to use it to pay back our debts. Dejan Dimitrijevic has been fighting for the club for decades and, in spite of his great difficulties, he has been saved from extinguishing. He kept the club, we never relegated, and we are grateful to him for ever. After his death in July last year, there was a large vacuum, if it was not for him, we would probably have been shut down so far,
Djurovic said and continued on the plans of the OKK of Belgrade:
– We opened the academy, boosted the work in youth categories. We all want to bring the club back to the old glory path. We are grateful to Mega for giving us a helping hand. We do not sell neither the name nor the rank, nor does the club cease to exist. We do not have players at the moment, but Mega will lead the playing and coaching par, and we expect them to do it in a top-notch manner, as it does in their club,
Djurovic said.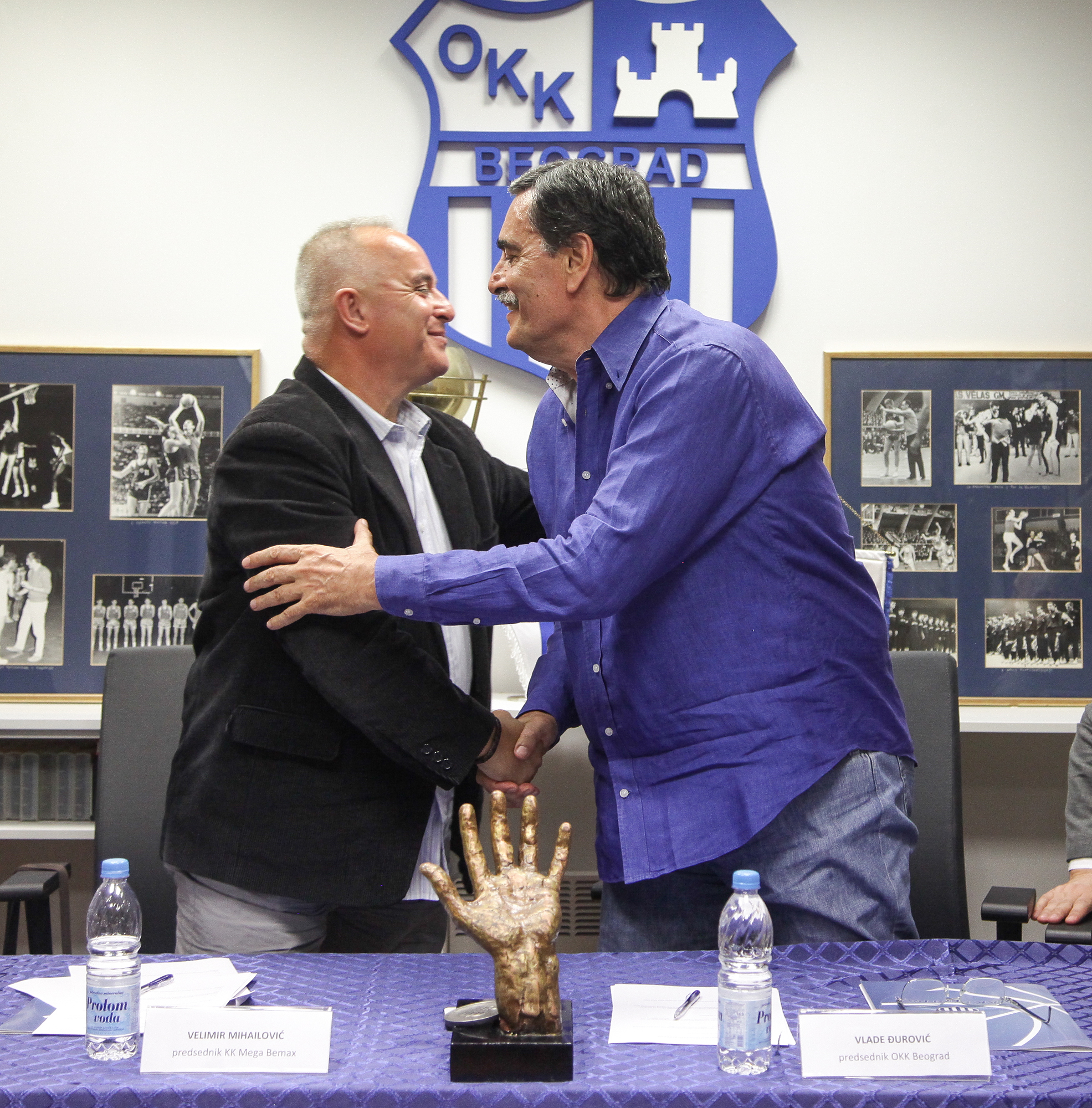 Velimir Mihailovic, the president of Mega Bemax, emphasized that both clubs will have multiple benefits from the agreed cooperation. Young players of Mega will acquire the necessary experience by playing for OKK in the Basketball League of Serbia, and at the same time, Mega will happily do everything to help OKK Belgrade, a club with a very rich tradition and significance in Serbian basketball and beyond, to return to the track of success:
– On behalf of KK Mega Bemax, I would like to emphasize that it is our great pleasure to cooperate with OKK Belgrade. Mega is a young club, especially in relation to OKK Belgrade, through which the giants who created the foundation of basketball as we know it today have passed. Mega has built a system through which we have come to the position that we can help OKK Belgrade on the way to return to the path of success. I am convinced that this cooperation will be beneficial to both sides and that both clubs will have reason to satisfy its effects. Through this cooperation we will enable our young players to acquire the necessary experience in senior competition through KLS and accelerate their development,
said President of Mega Bemax.
Aleksa Milosevic, a board member of OKK Belgrade, said that cooperation with Mega Bemax will have great significance for OKK Belgrade and added:
– When you look at this room, you see that this is a great tradition. Throughout this club went players that are still being talked about. The task of this board is to stabilize the club and not allow OKK to end up as some clubs that were important in the previous period in Serbian and Yugoslav basketball. We had more ideas on how to continue to run this club, and the Management Board unanimously concluded that this cooperation with Mega was by far the best idea. We are entering into cooperation with a serious club who, although young, has exceptional successes,
said Aleksa Milosevic.
Branislav Vicentic, the new head coach of OKK Belgrade, returned to the club where he started his senior career. Vicentic won the junior Yugoslav championship as a Klonferi's player in order to win the Cup in 1993 with the first team. In 2007, he ended his rich international playing career in Mega. As coach of the junior team with Crvena zvezda, in 2011 he won the Euroleague qualifying tournament and then became an assistant coach in the first team. Branislav Vicentic was also coach of the junior team of Mega Bemax in the period from 2012 to 2014, working among other with Nikola Jokic, Rade Zagorac, Ognjen Jaramaz and many other already affirmative players.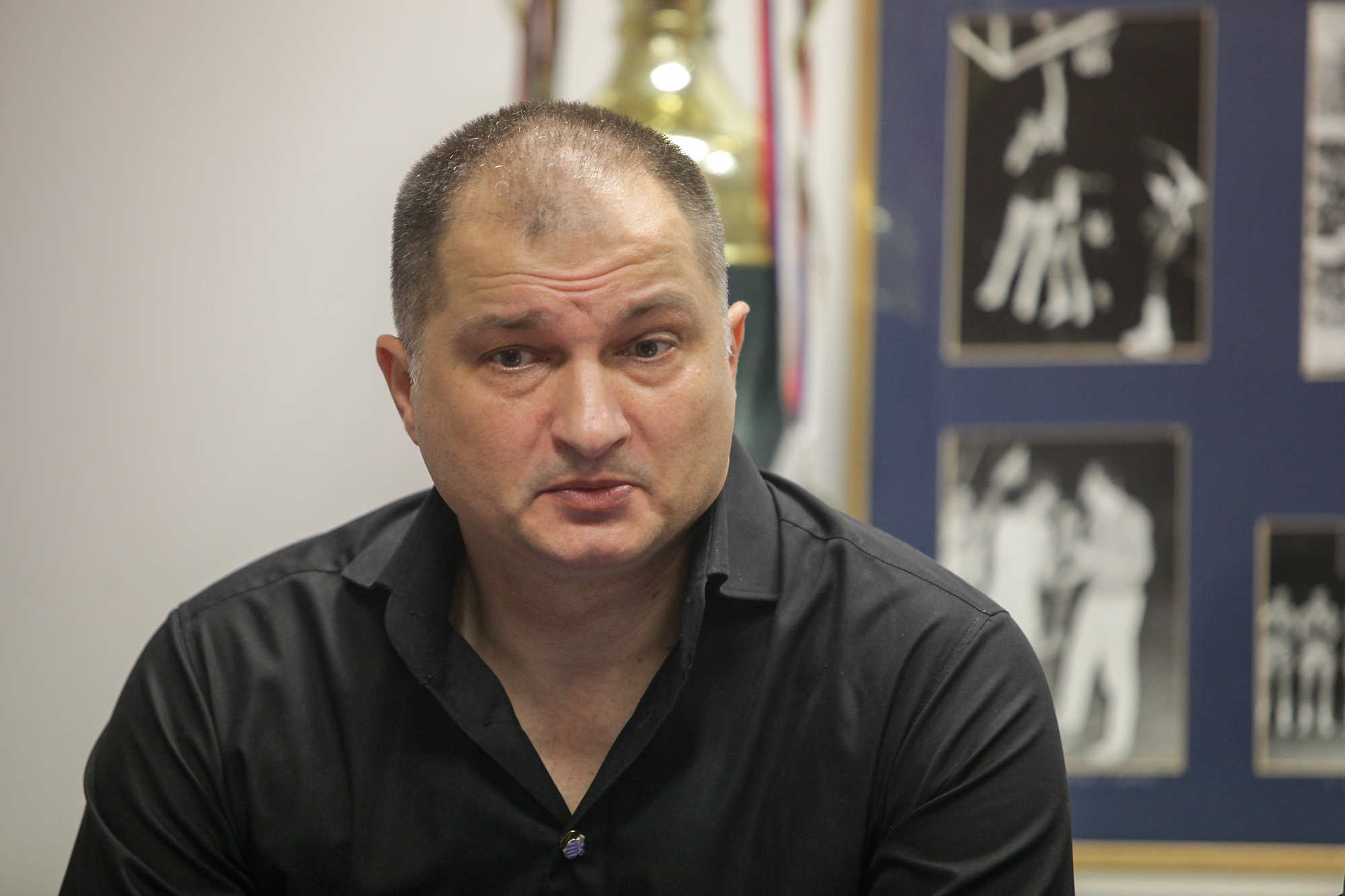 Vicentic emphasized that it is too early to talk about the ambitions of the team, but that it will definitely fight for the team to play modern basketball, as they will try to make it a pleasant surprise in the next season of the Basketball League of Serbia:
– I am very happy to be part of this project and return home, where I started to chase my basketball dreams. I can promise that we will try to play a modern, fast basketball with solid defenses. Most of the players will be from the junior team of Mega Bemax, which will justify the name of the Youth Basketball Club Belgrade. I am the first time in this hall that building was started since I stopped playing career and I'm very pleased with what I see. OKK has come to a standstill and it makes me very happy and I will do my best to make the players and the results come back to the tracks on which this club was. As Mr. Djurovic said, we do not know whether we will raise the championship of the state trophy again, but we know that with great desire and dedication we will defend the colors of the OKK Beograde and that we will try to restore this romantic spirit to street Zdravka Celara,
Vicentic said.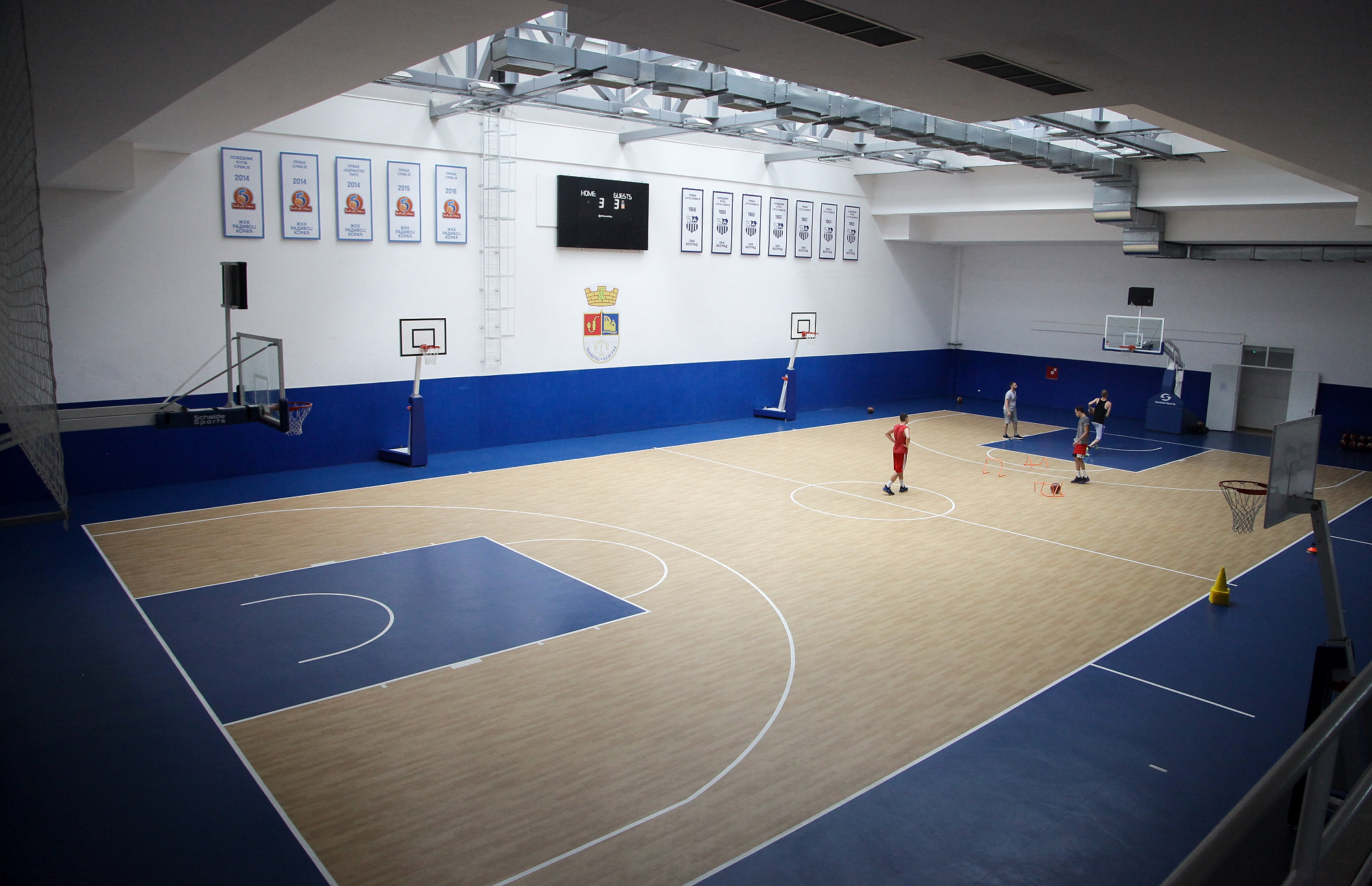 Photo: Mega Bemax/Ivica Veselinov