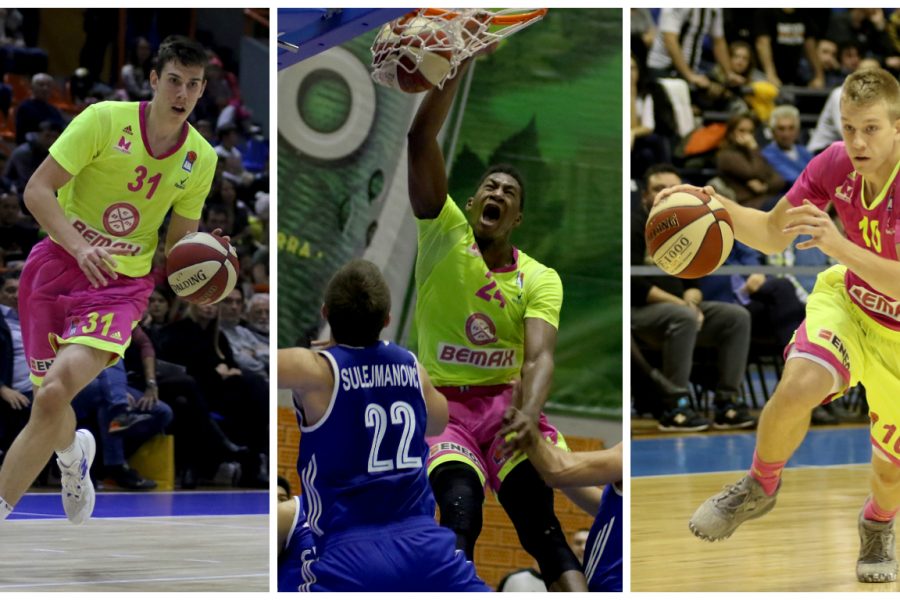 MEGA BEMAX WITH THREE CANDIDATES ON NBA DRAFT 2017
Basketball Club Mega Bemax will have three candidates at this year's NBA Draft that will be held in the night between June 22nd and 23rd at the Barkley Center in Brooklyn. Namely, at this year's NBA draft players of Mega Vlatko Cancar and Alpha Kaba came out, and Ognjen Jaramaz is automatic eligible.
Last year Mega entered the history of the world's best league since it became the only club outside the US continent, who twice had three selected players on one NBA Draft. On the draft 2014, Mega had three players selected, namely, Nikola Jokic, who was 41th, Vasilije Micic at 52nd place and Nemanja Dangubic who was 54th. Last year, three players were also selected, Timothe Luwawu-Cabarrot 24th, Ivica Zubac who was 32nd and Rade Zagorac at 35th place. In the meantime, three players directly from the club went to the NBA league, Nikola Jokic to Denver Nagets in 2015, Timothe Luwawu-Cabarrot to Philadelphia and Ivica Zubac to Lakers last year. They would be joined by Rade Zagorac in Memphis this summer in the strongest league in the world.
Ognjen Jaramaz is the player who is the longest in Mega Bemax of the nominees for this year's NBA draft. Born on September 1, 1995, he plays guard position and he is in Mega since the age of 17. In the ABA League, this season had an average of 10.8 points and 3.6 assists, in the Basketball Champions League it was 11.9 points and 3.1 assists, while in the Super League he had 14.5 points and 3.7 assists. Last year, like this year, he was invited to a wider list of Serbian national team and while with Serbia U20 NT won bronze in 2014 and gold in 2015 at the European Championships.
Alpha Kaba is born on January 29, 1996, play at the center position and to the ranks of Mege came in the summer of 2015 from the French Orthez. This season, in the ABA League on average scored 10.9 points per match, in the Basketball Champions League 10.7 and in the Super League he had 9 points per game. Kaba has been particularly impressive this season as an excellent rebounder since he was named the first rebounder in the ABA League with 7.6 rebounds per match, and also in the first place in the Super League of Serbia with 8.2 rebounds per match. In the Basketball Champions League, in regular season he was second rebounder with 9.8 rebounds per match. He is at the list of 37 players, on which the French Basketball Federation (FFBB) counts in the next Olympic cycle until 2020.
Vlatko Cancar was born on April 10, 1997, plays position three and four, and last summer he came to Mega from Olimpija. In the ABA League on average jad 8.2 points and in the Basketball Champions League had 7.5 points and 4.1 rebounds, while a large part of the Super League missed out on injury. He performed in the younger national selections of Slovenia and last year he also made his debut for the A team in qualifications for the Eurobasket 2017.
Photo: Mega Bemax / Ivica Veselinov