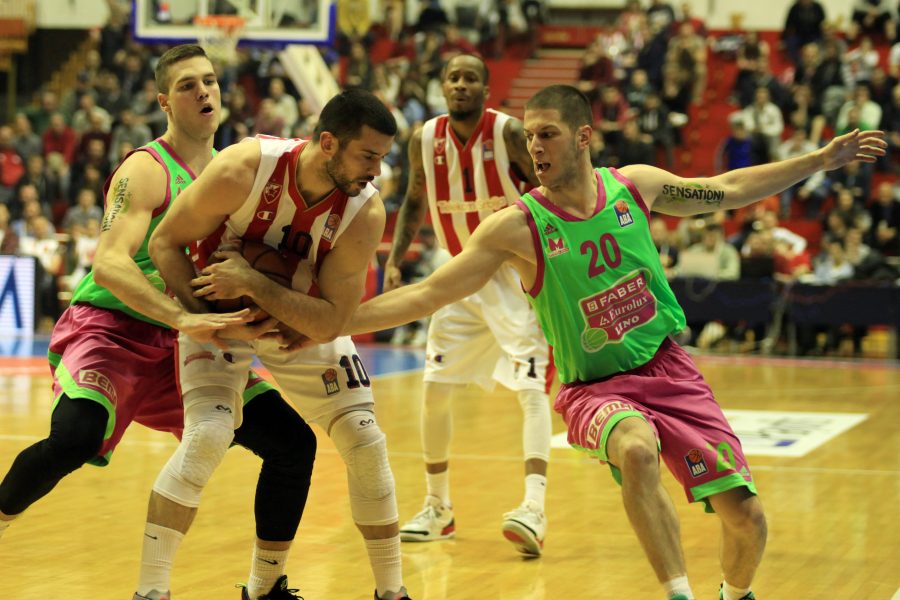 MEGA IN FINISH DROPPED WIN IN GAME 1
Players of Mega Leks bravely opposed the current champions of ABA league but the finish faltered so Crvena zvezda Telekom came to victory of 95:88 (27:25, 21:20, 20:25, 27:18) and took lead 1: 0 in the final series of regional competitions.
Dejan Milojevic players in this match were weakened because of injuries but nevertheless on several occasions managed to reject attempts of Crvena zvezda to resolve match earlier with occasional leads. In the end, the key was a series of threes of Zvezda at the beginning of the last quarter, although the players of Mega managed to lower the difference from 13 points to just minus 4, but in the finish lacked freshness and concentration.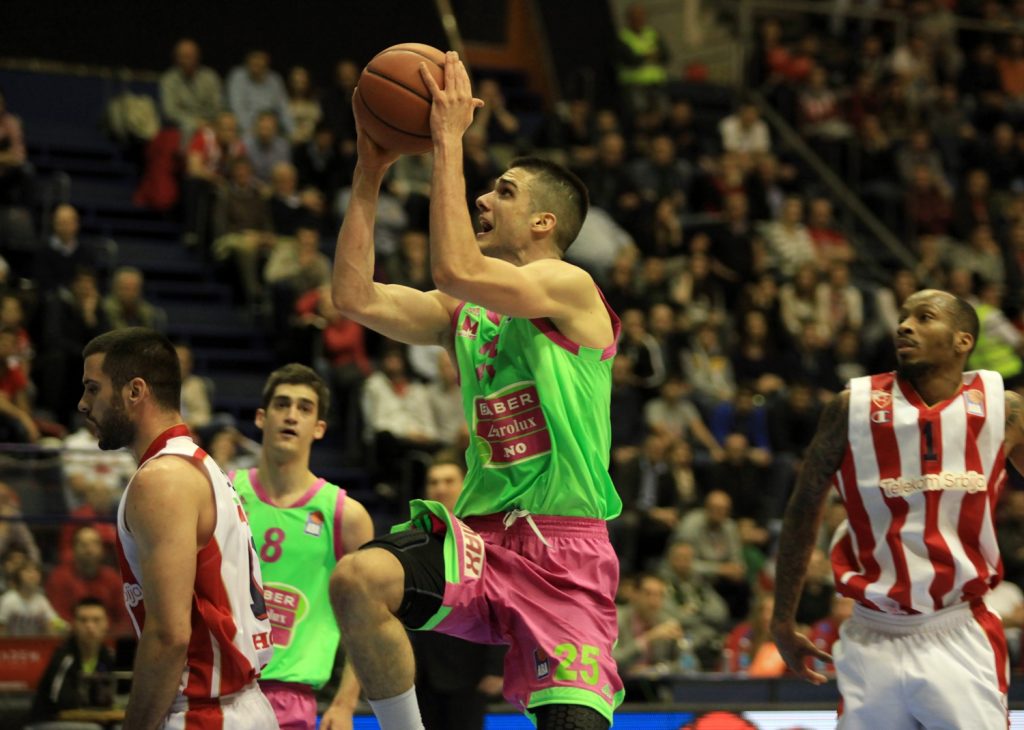 For Mega in this game, in addition to injuries of Aranitovic, Jaramaz and Kaba, even though they were part of the roster, Luwawu and Pavlovic didn't play of because of injuries. On the bench for Mega were junior Novak Music and cadet Marko Pecarski who first played the finals of the U17 Championship where Mega won just against Crvena zvezda, ran to the match in the hall, "Aleksandar Nikolic".
Start of the match was in effective play of both teams with Danilo Nikolic in good mood, who scored 7 points. Zvezda reached 8 points difference but Ivanovic with aseries points managed to reduce the difference as the first quarter ended with 27:25.
In the second quarter with heavy lay-ups Zagorac and Simic bring lead to Mega, and then with threes of Ivanovic and Nikolic to 35:37. This was followed by a fall in defense Mega as Zvezda used to reach 48:41 but Simeunovic affects vital three points and then Simic hit one throw for 48:44 at the break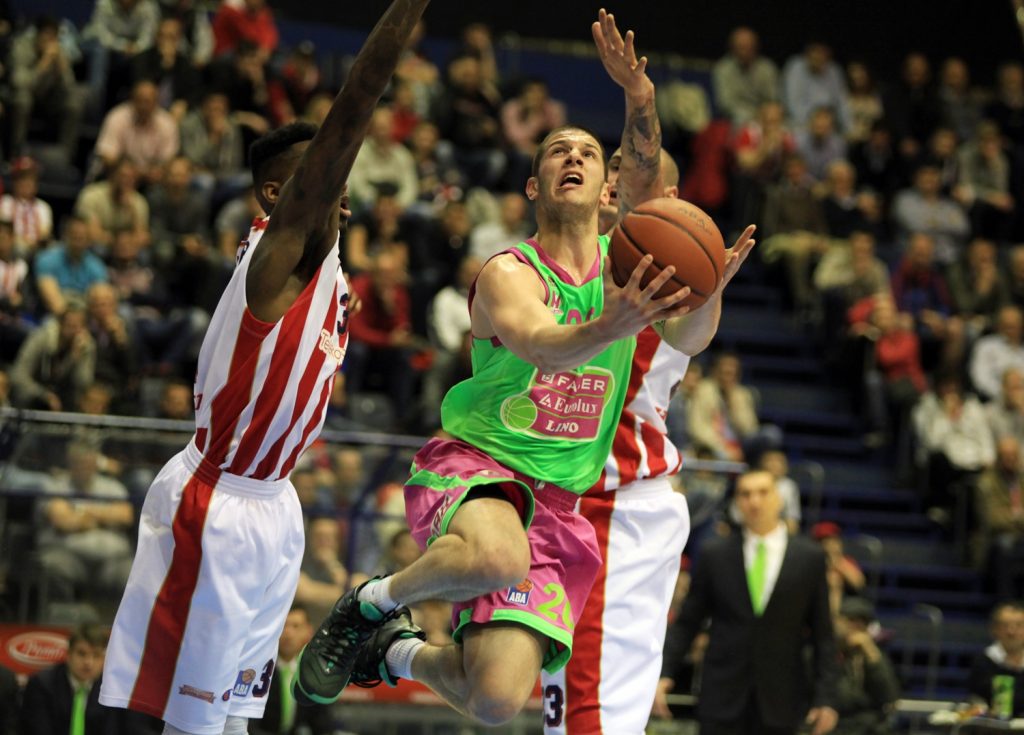 Mega did not started the second half good as it was 57:48 after couple of minutes. Mega answered with a series 0:7 with three points of Nikolic, points of Ivanovic and great layup Simeunovic. In the third quarter finish Mega arrives and took the lead and the result before the last 10 minutes was 68:70 after the three from Zagorac.
With a series of threes Zvezda came to plus 13 mid last period but with the series 0:9 Mega was back into the game for 88:84 with 3 minutes to go. However, lack of concentration and freshness led to a new series of points of Crvena zvezda after which there was no time for the reversal.
The most efficient in Mega were Nikola Ivanovic with 25 points, Djordje Simeunovic with 20 and Danilo Nikolic 18.
Players of Mege on this match went to the court with interesting styling in the form of temporary tattoo of a dragon, a trademark of the new sponsor of the club, "Sensation" carbonated soft drinks.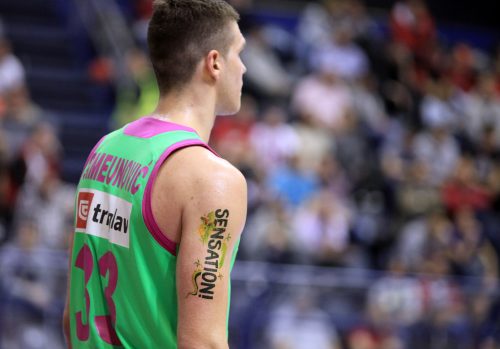 The next match of the final series will be played on Saturday 30th of April from 20 hours.
Mega Leks: Simic 8 (4 assists), Djokovic, Veljkovic, Music, Ivanovic 25 points (6 assists, index 28), Pavlovic, Luwawu-Cabarrot, Zagorac 13 (5 assists), Simeunovic 20 (4 steals, index 23) Nikolic 18 (6 rebounds), Jankovic 4 (5 rebounds).
Crvena zvezda Telekom: Kinsey 7, Rebic, Dangubic 2, Mitrovic 3, Lazic 12, Micic, Simonovic 15, Guduric 9, Jovic 11, Miller 17, Zirbes 7, Stimac 2.
Photo: Ivica Veselinov / Mega Leks