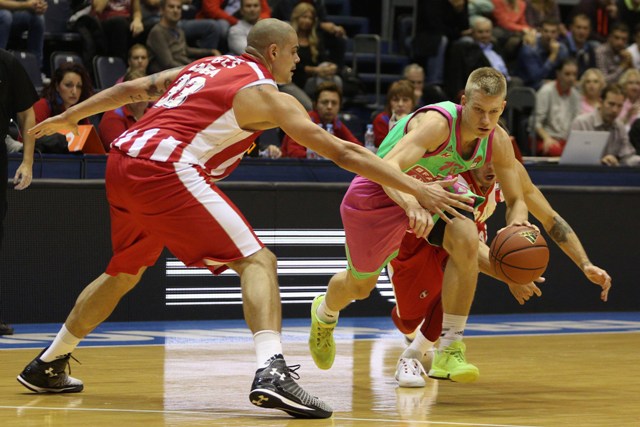 JARAMAZ:"I BELIEVE IN OUR TEAM!
At the premiere of the new season of the ABA league in Sremska Mitrovica, Mega Leks will meet Partizan on Sunday from 5 pm. Team of Dejan Milojevic will go into this match without captain Rade Zagorac, who broke his hand in the match against Crvena zvezda Telekom in the first round, and without Alpha Kaba who is still recovering from a knee injury and Nikola Ivanovic, who injured his ankle in the match with Zvezda.
Both teams will look in this one to first triumph in the ABA league in this season as the Mega was defeated away to Crvena zvezda with 76:70 while Partizan lost to Metalac in Valjevo with 67:64.
In the last meeting between these two teams in Superleague last season, Partizan celebrated in Sremska Mitrovica in overtime with 95:96 although Mega Lex had a shot for win.
The coach Dejan Milojevic said that Mega has big problems with injuries:
"The match against Partizan comes at a very difficult moment. We have a lot of problems. Nikola Ivanovic certainly will not play with Zagorac and the Kaba, while Jankovic is questionable and the chances are that he will skip the match. This is a bad luck with injuries, we can get through only maximum effort in defense and that through it we build the path to victory. The situation is difficult, especially when it comes to the youngest team of the ABA league. However, according to the unwritten rule in those very circumstances someone else pops up and play a great match and our team has a lot of players who have the quality to do it",
Milojevic said and referred to the opponent in tomorrow's match:
"Partizan is completed late and that he needs more time to come to his game. But, on tour in Valjevo has shown that they play good solid basketball and that is why I expect a very tough and uncertain match. I believe that the PSC "Pinki" be filled to capacity and the audience in Sremska Mitrovica will not miss the opportunity to enjoy great basketball".
Ognjen Jaramaz stressed that they will try to play a good match this weekend:
"I think we played a good game at the start of the season, we unfortunately lost. By far the greater problem is a big injury of Rade Zagorac, who will be out for 3 months. Rade is our captain and has great contribution in the field. Whatever be the situation with injuries, I believe we have a talented and qualified team to replace absences. We will gather in and try to play a better match on Sunday so the audience in Sremska Mitrovica can enjoy basketball. I hope for the best possible outcome, win",
finished Jaramaz.
Tickets for this match are on sale at a price of 400 dinars for the stands and 1000 dinars for VIP sector.
Photo: Mega Lex