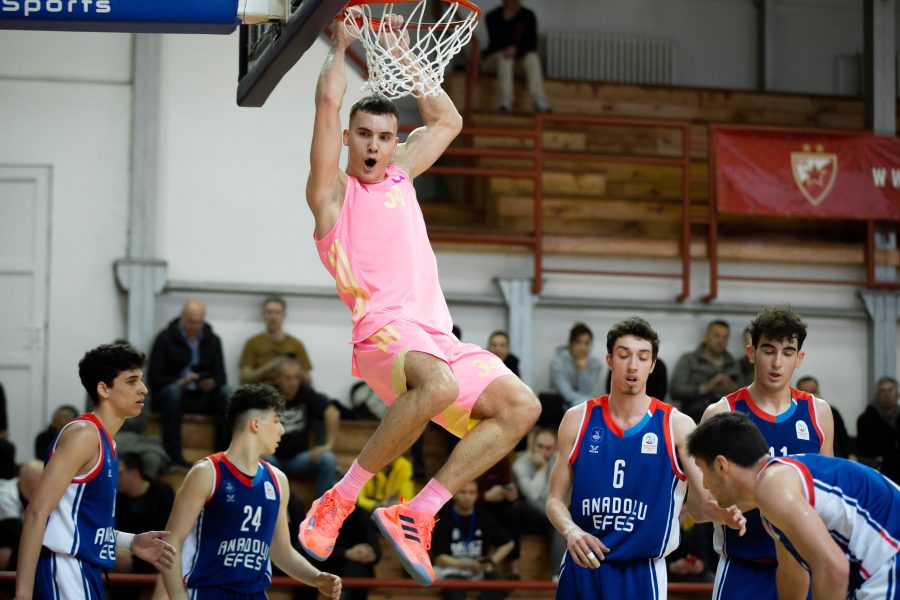 STRONG PERFORMANCE OF U18 MEGA MIS AGAINST EFES FOR THE SECOND VICTORY AT THE EUROLEAGUE QUALIFICATION TOURNAMENT
The juniors of Mega MIS opened the ANGT Euroleague qualification tournament dominantly, outclassing their peers from Venice with 103:58, and with a convincing triumph against Anadolu Efes, they took another step towards the finals, 89:74 (25:14, 25:13, 27: 20, 12:27). As in the previous match, Dragoljub Avramović's team quickly established control, already by halftime they had gained a sizeable 23-point lead, and in the third quarter removed all doubts about the question of the winner, and in the last 10 minutes, they routinely brought the job to an end.
Thus, after two rounds, they have the maximum performance in Group B and will fight with Parisian INSEP for a place in the final. Let's recall that the French club defeated Efes 77:54 in the first round.
Filip Jović played another excellent match and, with 23 points, was the most efficient and, with an index of 22, the most useful in Avramović's team. Bogoljub Marković scored 18 points and five rebounds (index 20), while Luka Savanović also made excellent use of his minutes and ended the match with 14 points. Asim Đulović was also in double figures with 11, and as many as 11 of Mega's juniors entered the list of scorers.
The meeting between Mega MIS juniors and INSEP is scheduled for Saturday from 19:00.
Mega MIS: Šipčić, Gačić 2, Savanović 14, Đulović 11, Marković 18, Mušicki 1 (8 rebounds, 6 assists), Kroflič 9, Dožić 2, Srzentić 3, Jović 23, Sibi 4, Milosavčević 2
Photo: KK Crvena zvezda/Đorđe Kostić