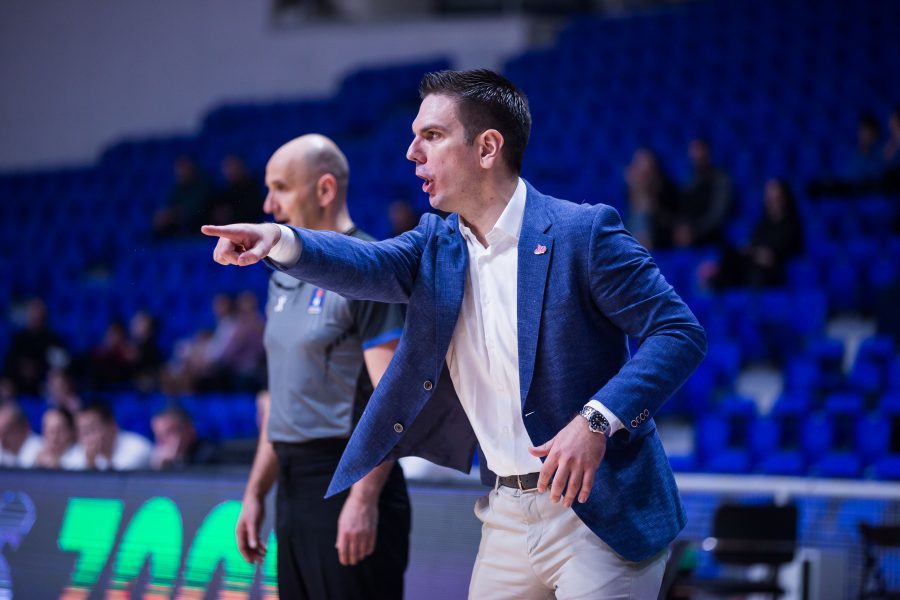 BARAĆ: "WE GAVE CONFIDENCE TO THEIR SHOOTERS AND CREATED POORLY, BUT ALL WILL BE BETTER IF WE CONTINUE WORKING LIKE THIS"
The Mega MIS basketball players made a good impression on a problematic visit to Podgorica but failed to surprise Budućnost VOLI in the 12th round of the ABA League 79:66 (19:16, 21:18, 21:18, 18:15). Marko Barać's team was neck to neck with the favored rival during most of the match. Still, in the end, they did not have the strength to match the team of former Mega coach Vladimir Jovanović. Thus, after 12 rounds, they have a record of 3-9, while Budućnost achieved their eighth triumph (8-4).
Coach Marko Barać shared his impressions after another challenging duel:
– I congratulate Budućnost on the victory. We had a very good week in the training process after a very tough game. We managed to get out of personnel issues and came to Podgorica in stable condition. In the first half, it was satisfactory until the end of the second quarter, where we allowed Budućnost to stand on the free throw line when there was no need for it, with passivity in defense. We didn't play well on the switch against Lazić, where he caused us a lot of problems,
said Barac.
Then he turned to the analysis of the critical moments of the match:
– It is well known that big series are made with three-point shots. You can't allow a three on a three. Buducnost scored 15 of its 21 points in the third quarter on shots from a distance. We opened with poor communication on the central pick with Hayes, gambling in defense on Petar Popović, and bad rotations on Lazić. We gave confidence to their defenders, and they kept it until the end of the game and solved situations quite quickly. The ratio of assists and turnovers shows that we did not create well enough, read the defense, and the result is clear. After the fourth away game, the demanding schedule continues, but if we continue training like last week, I am optimistic that these boys will play better and that we will record better results,
Barać concluded at the press conference after the match.
Mega played its last match in 2022, and at the beginning of the next one, they will host Cedevita Olimpija. The meeting is scheduled for Monday, January 2, from 12:00 in the Ranko Žeravica Sports Hall.
Photo: Buducnost VOLI/Filip Roganović