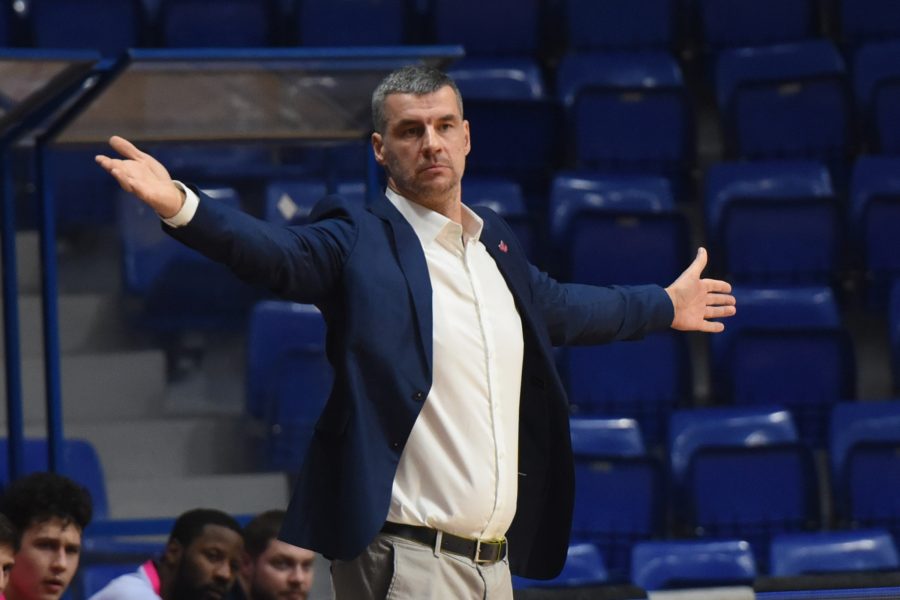 JOVANOVIC: "WE FAILED IN ALL ELEMENTS, WE CAN'T LOOK LIKE THIS"
In the postponed game of the 14th round of the ABA League, which was played in Podgorica, Mega Mozzart lost to SC Derby with 83:62 (22:18, 15:14, 23:22, 23:10). Coach Vladimir Jovanovic's team was behind for most of the game, they managed to return to the match on several occasions, but the home team managed to separate to a safe advantage at the end of the third and the beginning of the last quarter and calmly brought the match to an end.
At the press conference after the game, Mega's coach pointed out that his team failed in all elements and that he will try to recover the team in the next two days:
– Congratulations to the SC Derby team on a great game and a well-deserved victory. I have to defend my team a bit, we are still young and we played very close to that game against Zvezda. I knew we will not be at a satisfactory level, but normally I didn't know and I was hoping we wouldn't be at this. The match that was behind us was quite exhausting in the physical level, and from the first moment we acted as if we were tired, regardless of the fact that the match had just started. The criterion established by SC Derby in contact, running, jumping was on their side from the first minute until the end of the game. A great percentage of shots for three points was added to that, so the difference may not be big. I would say that we failed in all elements, a partial justification in the previous game played, but I won't talk about that. We have two days left, we have entered a very difficult schedule that would be difficult for far more experienced teams, and not for us. We will play against Buducnost in two days, we will try to analyze this and recover the team,
said coach of Mega and continued,
– I am angry to them, I am not satisfied with how they played, a lot of work and effort is invested in them, not only me but the whole club, and it is normal that we must not look like this, but we are young and inexperienced, the time is ahead and we will certainly try to use it in the coming period to look better,
said Jovanovic.
Photo: SC Derby