JOVANOVIC: "WE DIDN'T WELL RESPONDED TO THE FIRMNESS OF ZVEZDA"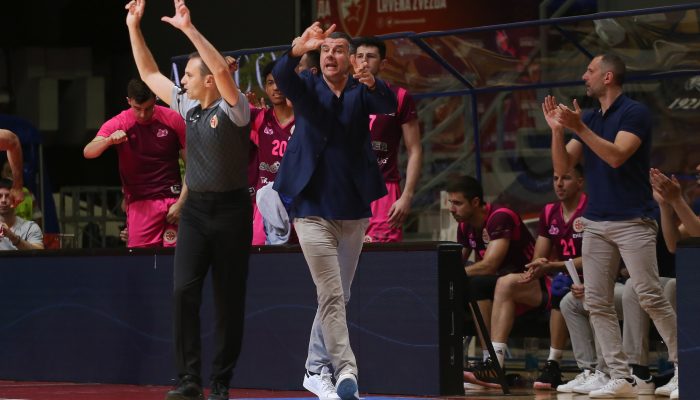 In the first game of the finals of the playoffs of the Serbian Super League, Mega Soccerbet lost away to Crvena zvezda mts with 98:69 (31:17, 26:20, 21:19, 20:13). Coach Vladimir Jovanovic's team did not enter the game well in front of about 1,500 spectators in the Aleksandar Nikolić hall, where Crvena Zvezda easily reached points from a large number of offensive jumps, after which Mega failed to return to the game and endanger Zvezda's victory.
With this victory, Crvena zvezda took the lead in the series with 1-0. The final series will be played on the best of three and the next one will be played on Friday, June 11 at 8 pm without the presence of spectators in the Mega Factory hall, while the eventual third will be played on June 13 at 8:30 pm in the Aleksandar Nikolic hall.
At the press conference after the game, point guard of Mega Jovan Novak pointed out that his team did not have the right solution to Zvezda's aggressiveness:
– We knew we had to respond to Zvezda's firmness. We didn't do that in the opening minutes of the first quarter. They had a lot of rebounds in attack, we didn't have the right solution for their aggressiveness, and then it was very difficult to play. It remains for us to try to rest as well as possible and prepare for the next match. We have a little time, but I hope that on Friday we will improve our game and be much more aggressive,
said Novak.
Mega's coach Vladimir Jovanovic that his team will try to close the ranks and play better the next game.
– In the preparation of the match, I stated that it will be the key to stay in the match for 40 minutes and that it will be possible only if we adequately respond to their strength. We didn't do that and they already gained an advantage in the first quarter, which, as it turns out, was enough to bring the match to an end the way they wanted. They scored 21 points after offensive rebounds, they hit as many as 10 three-pointers in the first half, which resulted in that difference. They got into a good rhythm of attack, and we did not manage to find our rhythm until the end of the game. I think we were punished by that weaker approach, which was not at the level. Whether it is an approach or concentration in such an atmosphere, or it is a question of the importance of the match, it was mostly not as we agreed. We will try to close the ranks and I hope we will play better next game,
said coach of Mega.
Photo: Crvena zvezda mts/Djordje Kostic