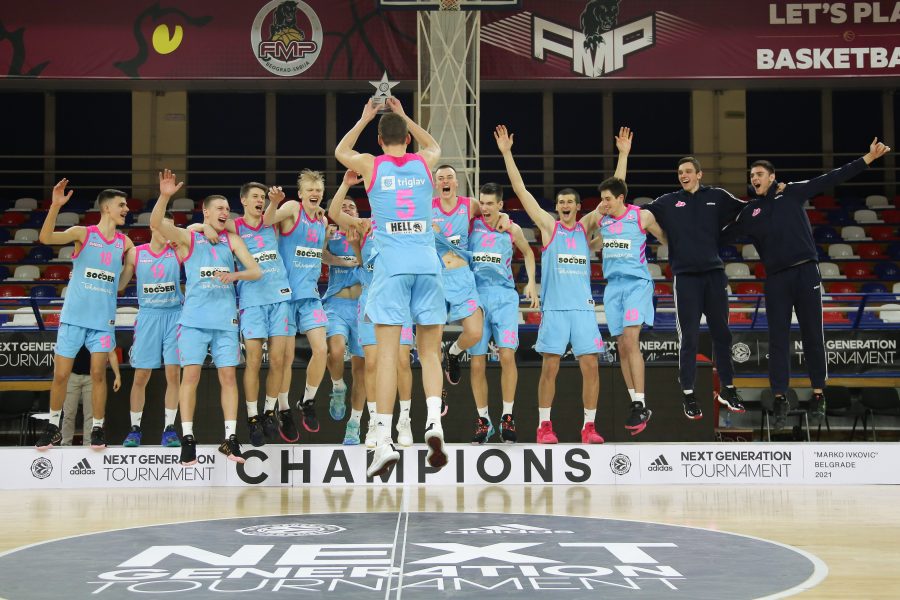 GREAT COMEBACK WIN OF U18 MEGA SOCCERBET AGAINST CRVENA ZVEZDA IN THE EB ANGT QUALIFIERS FINALS
U18 Mega Soccerbet after great comeback defeated Crvena zvezda mts with 80:82 (24:18, 22:14, 22:27, 12:23) in the final of the qualifying tournament of the junior Euroleague, which took place in the FMP hall in Zeleznik and thus qualified to the Final Tournament. Coach Dragoljub Avramovic's team came to victory after a big comeback, as they were 19 points behind in the third quarter, but they did not give up, so they came to victory in an exciting finish since Oleksandr Kobzystyi stole the key ball a few seconds before the end.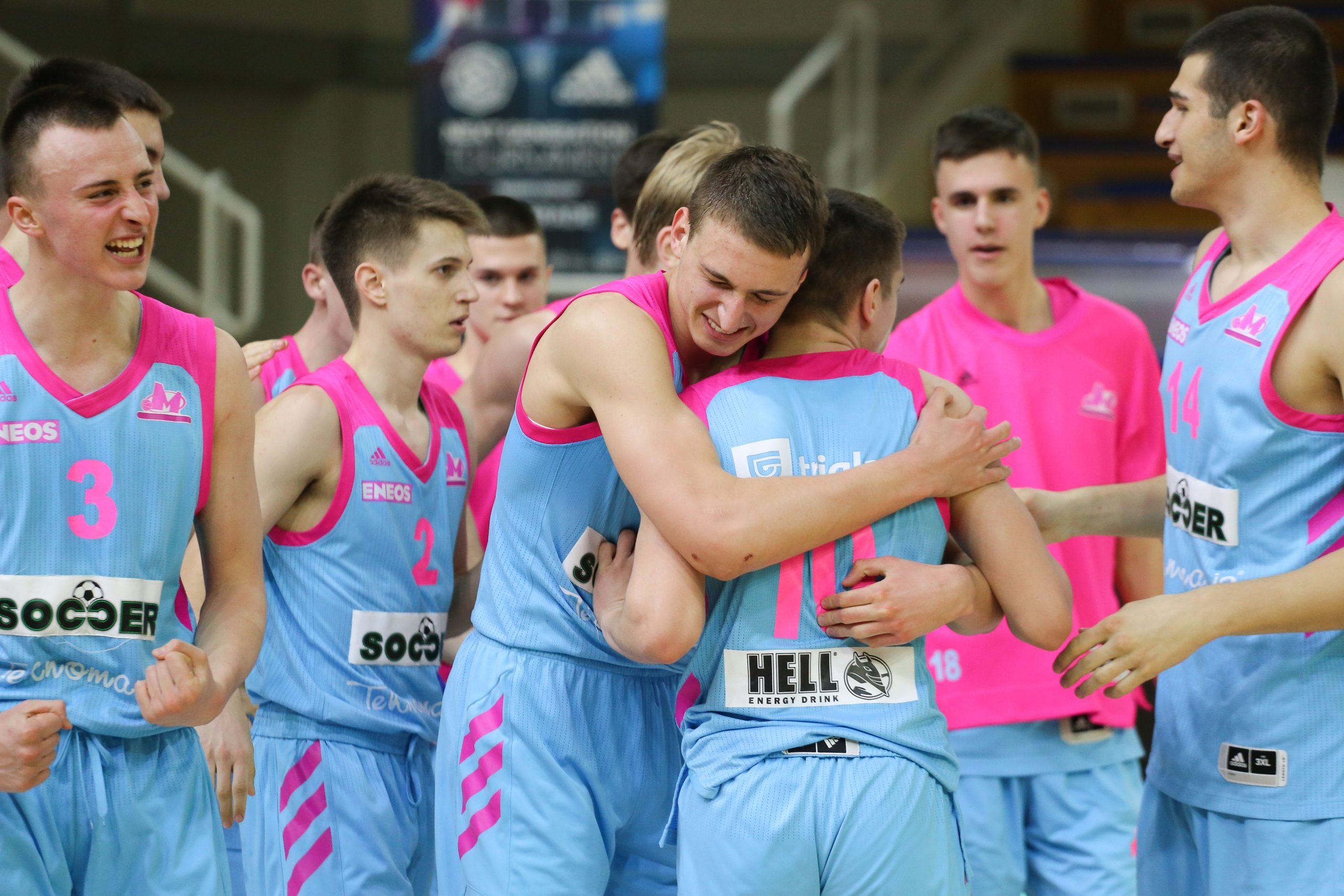 The most efficient in the ranks of Mega's juniors were Nikola Jovic with 32 points and Nikola Djurisic with 17. Ognjen Matovic stood out in Crvena zvezda with 23 points.
Captain pf Mege Nikola Jovic was chosen as the MVP of the "Euroleague Basketball Adidas Next Generation Tournament Belgrade 2021", who averaged 29.3 points, 10.3 rebounds, 4.5 assists in four games for an average index of 38. In addition to him, Nikola Djurisic in All-Tournament team who had 19.3 points, 6.8 rebounds and 5.3 assists per game.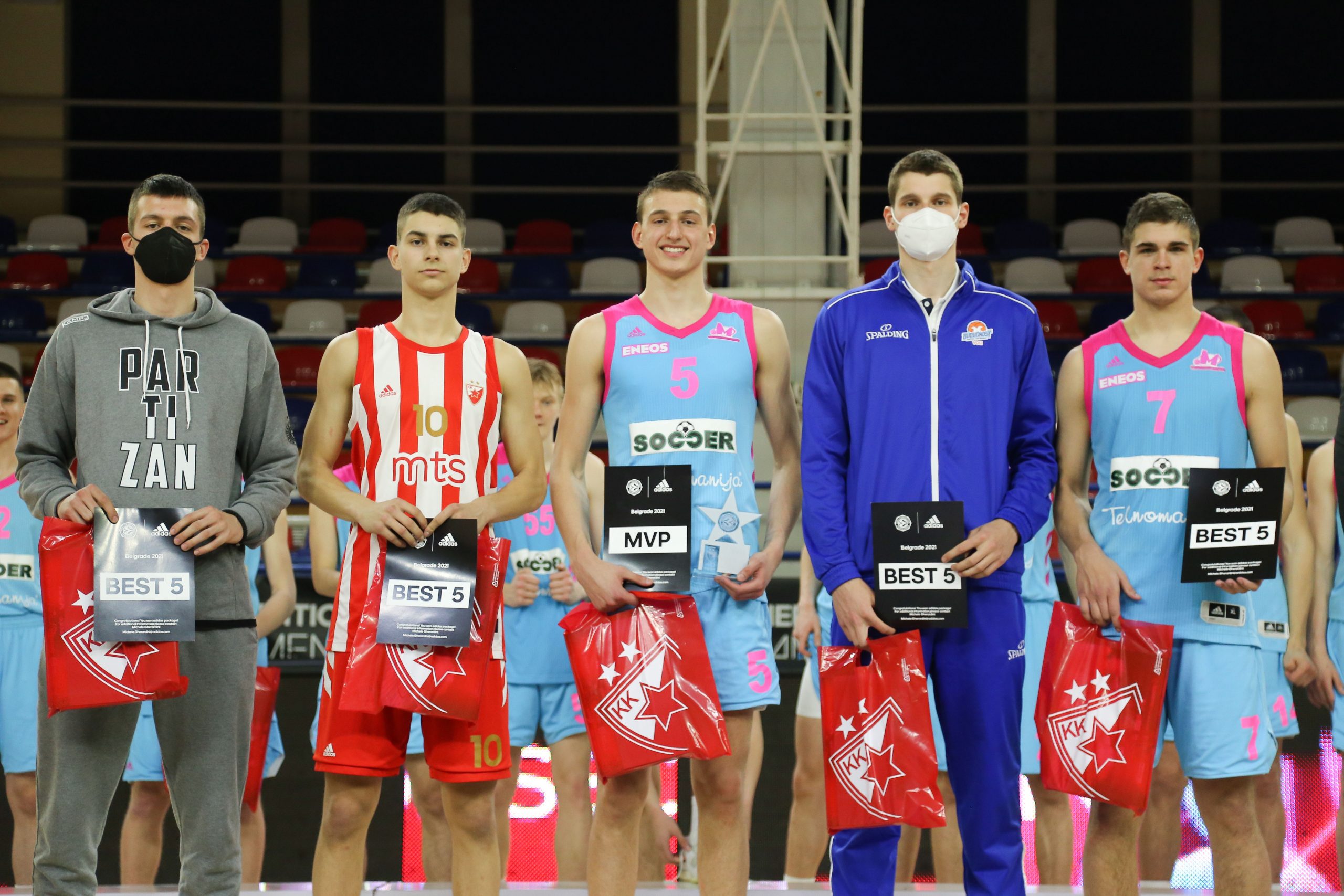 Throughout the first half, Mega chased the advantage of Zvezda from the start, they had problems on both sides of the field without a hit triple, so the home team went on half-time with 14 points of advantage.
The beginning of the second half was not better either when Crvena zvezda went to the maximum 51:32. The juniors of Mega did not gave up, little by little the advantage melted to tie 73:73 in four minutes until the end. With the result 78:77, Vucurovic hits an extremely important three-pointer for Mega's lead, and then Jović scores for plus 4 after two offensive rebounds. Zvezda reduces to two point gap, Mega loses the ball, but Kobzystyi steals the key ball with six seconds until the end, after which Mega kept the victory for a big celebration on the field.
Crvena zvezda mts: Vukas 3, Gacic, Radakovic 2, Vudragovic, Mihailovic, Pavlovic 9, Sharanovic 19, Vukovic, Matovic 23, Topalovic 5, Topic 4, Brankovic 15.
Mega Soccerbet: Labovic 2, Milutinovic, Kompirovic 11, Jovic 32 (12 rebounds, 7 assists, index 41), Djurisic 17 (7 rebounds), Vucurovic 11, Avlijas, Jonovic, Dozic, Djapa, Stanojevic 3, Kobzystyi 6.
Photo: Đorđe Kostić/Crvena zvezda mts