CADETS OF MEGA BEMAX THIRD IN SERBIA, LANGOVIC 39 POINTS AGAINST BORAC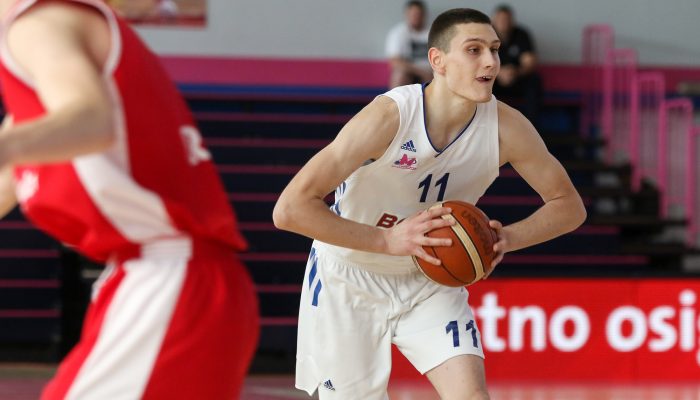 Cadets (U17) of Mega Bemax won the 3rd place at the Final tournament of Triglav Cadet League of Serbia after they beat Borac with 89:84 (26:28, 23:18, 24:22, 16:16) in the Mega Factory hall. The players of the coach Stefan Bulatovic entered the match little slower, but at the end of the first and the beginning of the second quarter they took the lead that they did not let go by the end of the match.
The best in the ranks of Mega Bemax was Aleksandar Langovic with 39 points, 9 rebounds and 5 blocks, while Aleksa Susic with 24 points was the most efficient in Borac.
Cadets of Borac started match better, so they had 12:21 in the middle of the first quarter. However, Langovic moved the team in the right direction with a total of 18 points in the first quarter. Mega shortly had a lead but the result after the first 10 minutes was 26:28.
Cadets of Mege in the first half of the second quarter with a brilliant press made guests lost couple of balls, making a series 13:2 for lead 38:30. By the half-time, Borac did not allow Mega to go to bigger lead, so results at the half-time was 49:46.
In the third quarter, Cirovic and Langovic were the best in Mega, but Borac did not give up, so the score was 73:68 at the end of the third quarter.
In the fourth quarter after the three of Music, the score was 78:70 for the Mega Bemax, after which followed series of Borac 0:7 which was ended with three pointer of Paunovic and then Langovic scored a series of points and definitely resolved the question of the winner for the final 89:84.
Mega Bemax: Music 14, Paunovic 6, Draganic 2, Kljajevic, Agoc 5, P. Kovacevic, Langovic 39 (9 rebounds, 5 blocks, PIR 44), Andric 2, Miskovic 5, Musikic, Cirovic 15, Mehic 2.
Borac: Kovacevic, Radovanovic 6, Lazarevic, Susic 24, Stojanovic 18, Tutunovic 5, Glisovic 4, Janjic 2, Micovic 23, Maric 2, Savic.
Photo: Mega Bemax / Ivica Veselinov