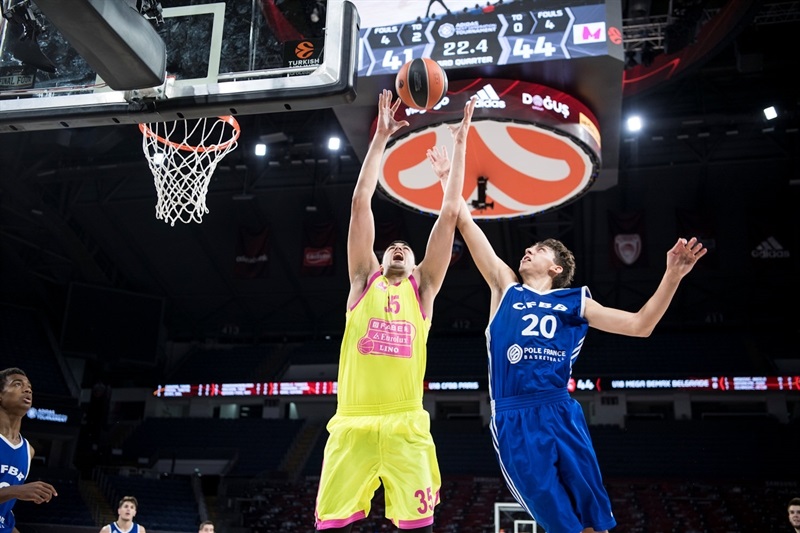 GOGA BITADZE IN ALL-TOURNAMENT TEAM OF JUNIOR EUROLEAGUE
Basketball player of Mega Bemax Goga Bitadze was voted in All-Tournament team of the juniors Euroleague tournament, where he won second place with Mega.
Although not fully recovered from the injury previously obtained, Bitadze played a fantastic tournament, and was particularly great in the final against CFBB Paris, in which he had 17 points, 20 rebounds, 5 blocks with PIR 38.
Mega Bemax had three victories in the group stage over Real Madrid, Zalgiris and Fenerbahce, and the final after the great fight lost from Paris with 65:58. In the tournament, Goga Bitadze on averagerecorded 17.7 points (3rd in the list of scorers), with 10 rebounds (1st on the list) and 3.7 blocks (1st blocker of the tournament) and average PIR 24.5 as the second most valuable tournament player. For all this, he had a good percentage for 2 points (54.7%, 10th on the list) and 3 points (44.4%, 6th on the list).
MVP of the Tournament is Ivan Fevrier from Paris, and besides Bitadze and him, the best five are Yanik Blanc (Paris), Dino Radoncic (Real Madrid) and Sergi Martinez (Barcelona).
Photo: ANGT Final Four Istanbul 2017