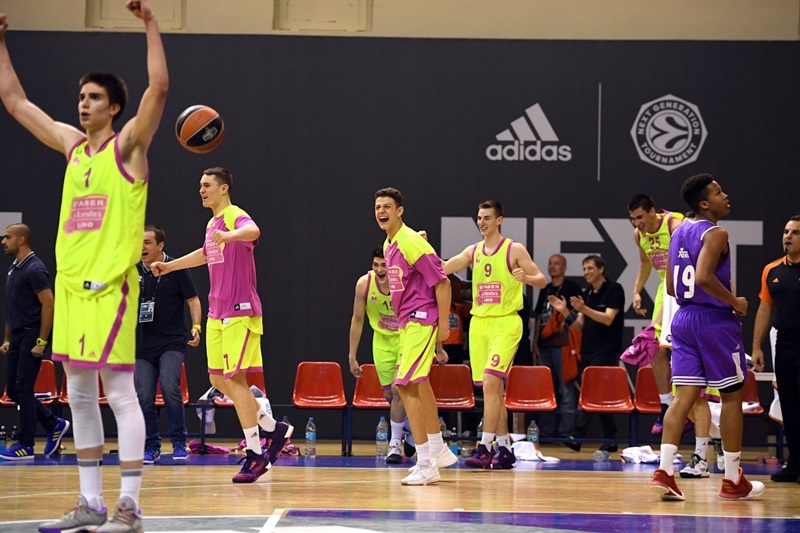 JUNIORS OF MEGA CRUSHED REAL MADRID AFTER MINUS 18
Juniors of Mega Bemax in a fantastic way started F8 of junior Euroleague in Istanbul with a great victory against Real Madrid, 75:65 (15:16, 24:24, 17:13, 31:12). Players of coach Vlada Vukoicic during the match were trailing with 18 points difference but at the end of the third and especially in the fourth quarter, completely outplayed Real, winning the last period with 31:12.
The best in the ranks of Mega Bemax were Nikola Miskovic with 20 points, 10 rebounds and 5 assists (index 33) and Igor Chives Drobnjak 13 points and Bogdan Nedeljkovic with 11 points and 8 rebounds. In Real Madrid the best was Dino Radoncic with 22 points.
After a tied first quarter, Real Madrid at the beginning of the second made a series of 17:0 and reached the maximum of plus 18, 15:33. By the end of the half and in the third period, Mega has more engaged primarily in the defense, so they reduced to minus 9 points before the last 10 minutes.
After tied points of Matovic at the start of the fourth quarter, Drobnjak got in fantastic mood since he tied 12 points in less than 3 minutes, to 59:59 and then Islamovic hit three pointer for first lead after the start of the game, 62:61. Mega fully closed paths to their paint, the Spanish could not score, and after two related threes of Nedeljkovic, Mega reaches plus 6. Real unsuccessfully tried to return with shots for 3 but point on Mega's victory with his 20th points put Miskovic.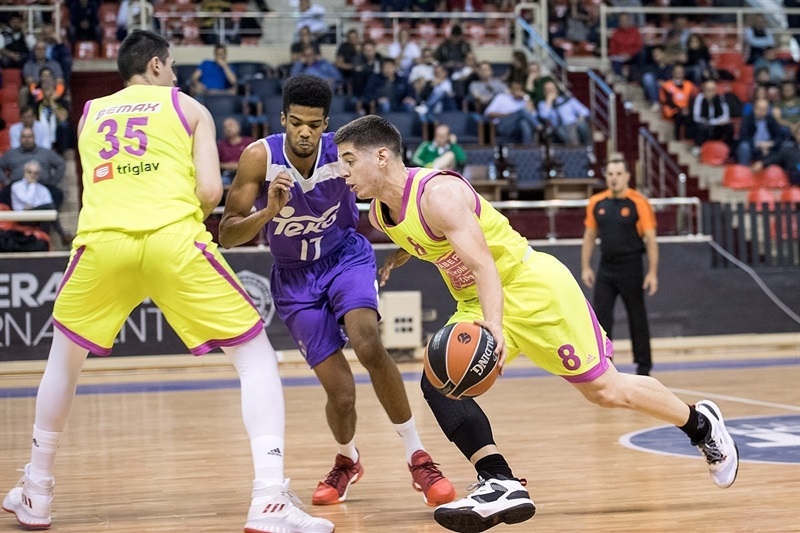 Juniors of Mega Bemax will in the second round on Friday from 12:00 will with Lithuanian Zalgiris, while on Saturday for 14 hours is scheduled match against Fenerbahce. First placed teams from each group will meet in the finals on Sunday from 9 am.
Mega Bemax: Miskovic 20 (10 rebounds, 5 assists, 4 steals, index 33), Drobnjak 13, Islamovic 5, Jovicic 7, Knezevic, Matic 8, Trifunovic, Raickovic, Cerovina, Nedeljkovic 11 (8 rebounds), Matovic 4, Bitadze 7 (8 rebounds, 3 blocks).
Real Madrid: Sow 4, Radoncic 22, De Blas 2, Unanue 5, Golden, Campara 15, Casanzi, Gonzalez, McCarthy 5, Ngalamulume, Pantzar 5, Salvador 7.
Photo: Angt Final Four Istanbul 2017