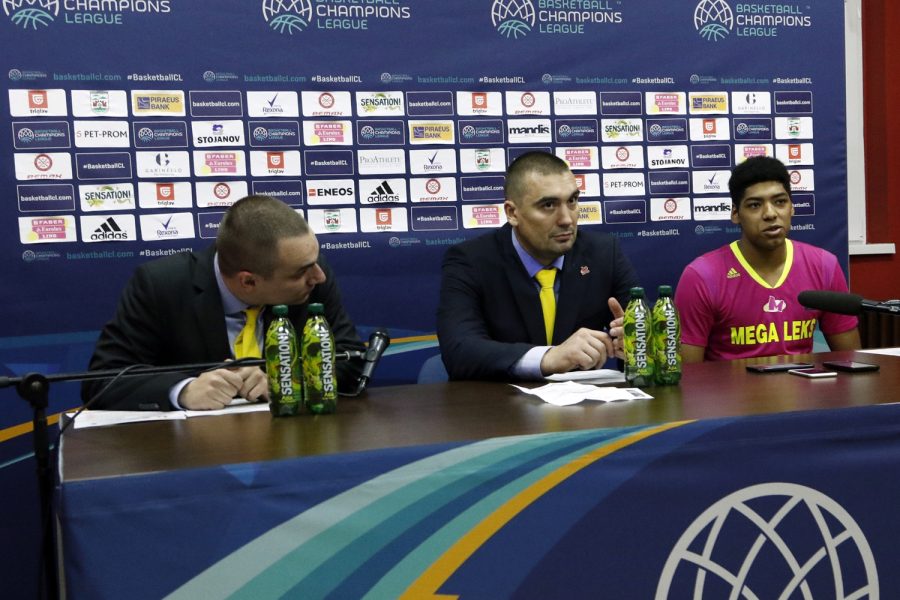 MILOJEVIC: "GOOD DEFENSE KEY TO THE VICTORY AGAINST CIBONA"
Players of Mega Leks carried by the audience come to their first win in European competition in the history of the club in a great way, after deficit of 15 points and in an exciting finale, 81:79.
One of the heroes of the victory was the Kostja Mushidi who played his best game of the season with 19 points scored and some great defense throughout the match. After the match he was understandably very happy:
– We didn't started match well. In the first quarter we had no energy. However, in the second quarter we played much better. We managed to get back to the tied game and we were aware that if aggression is at the required level, and if we play with enough energy, we can win. Jaramaz had some great moves in the last quarter, we played much stronger in defense and I think we deserved the victory tonight.
Coach of Mega Leks Dejan Milojevic thanked the audience for their support during the match:
– This match was very important for us, because we were in a series of defeats. For this reason, my team was under a lot of pressure to win this match. In the first quarter we did not play well, but from the second quarter we played defense at the required level, as this team can and should play. Our defense was good in rest of the match because of the fact that in the remaining three quarters Cibona not achieved more than 20 points. That was certainly the key to our victory. From such good defense we achieved easy points, raise the level of confidence and I think we deserved to win. I hope that this will be the start of our winning streak, and in particular I would like to thank the audience, which helped us a lot.
Play of Cibona Paolo Marinelli believes Cibona had a chance to triumph:
– It's hard to comment on anything now, because we lost on one ball. I think we started the game well and should have been in such a rhythm of playing all 40 minutes. However, with our mistakes we return Mega Leks to life literally four times. It was not easy, but again we had a chance to triumph, but we did not succeed, and it is as it is.
Cibona coach Damir Mulaomerovic pointed out that the victory of Mega was deserved:
– First of all I congratulate Mega Leks on deserved victory. We had our chances to win, we had open the last shot for the victory and with that we can be satisfied. However, we can not be satisfied with the refereeing trio that tonight in my opinion was not at the required level. But it doesn't have anything to do with win of Mega Leks that was clean and well-deserved. They fought the way they always do, tonight they were happier team and I congratulate them on that.
Photo: Mega Leks / Ivica Veselinov