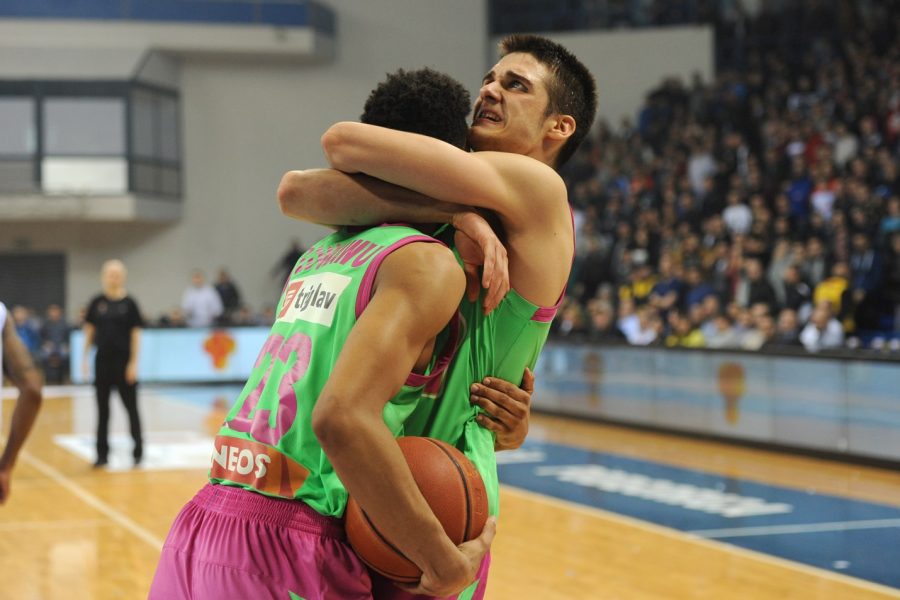 GREAT TRIUMPH OF MEGA FOR LEAD IN PLAYOFFS
Players of Mega Leks have made a huge surprise since within ABA semi-finals in a crowded Sports center Moraca defeated Buducnost with 81:85 (15:24, 28:18, 19:18, 19:25) and so inflicted the first defeat of the season on home soil in the context of regional competition. Fantastic game for players of Dejan Milojevic is especially important if we bear in mind the numerous injuries that have befallen the team and why did not play Jaramaz, Kaba and Aranitovic. However, the young players of Mega the umpteenth time this season proved to be the best when it is most difficult, and so they came to the great triumph.
Mega Leks in this fantastic victory was led by Rade Zagorac who in  captain's game (27 points, 7 rebounds, 4 assists, index 40) led Mega to break and lead 1:0 in the semifinal series.
YouTube / ABA liga j.t.d. – via Iframely
Dejan Milojevic started the match with the following five: Ivanovic, Luwawu-Cabarrot, Simeunovic, Nikolic and Jankovic. Start the match was marked by a Mega and Nikolic was great with 3 triples. Ivanovic was a great in finding teammates while Nikolic finished quarter with mid-range shot for 15:24 after the first 10 minutes.
The second quarter began with a series of Buducnost 10:0 (3 triples) which was interrupted by Nikolic for his 13th point, but then he got 3rd foul and goes to the bench. Buducnost has continued to score threes but with Zagorac points and Veljkovic offensive rebounds kept Meg in the game. Captain of Mega tied 10 points with a couple of shiny points from difficult positions for a total of 16 points in the first half without a miss, and the result 43:42 for the home team.
Jankovic opens excellent the second half with 6 points and some good defense. Zagorac is unstoppable in drives and returns advantage to Mega but with Dragicevic points Buducnost arrives to 62:60 before the last quarter.
The last 10 minutes Zagorac opens with 5 points and Ivanovic continues to find great Jankovic for a total of 12 of his assists tonight. In a very exciting match in the last minute is entered from 80:80. Jankovic hit one free throw and then Dragicevic missed shot, Luwawu-Cabarrot was fouled, and then hits both throws for 80:83 18 seconds to go. In the next attack referees called a foul for three on Cook but he hits only one free throw. After a foul on Ivanovic, young PG hits both free throws for a big celebration of Mega players at the court.
The second semi-final match of the series is played on March 19th, from 21 hours in the hall PSC Pinki in Sremska Mitrovica.
Buducnost VOLI: Suad Sehovic 2, Jaramaz 8, Subotic 7, Sead Sehovic 9, Cook 2, Slavkovic, Dragicevic 12, Maric 9, Jenkins 26, Rikic, Devoe, Kanacevic 6.
Mega Leks: Simic, Djokovic 2, Veljkovic 4, Ivanović 11 (12 assists), Pavlovic, Luwawu-Cabarrot 8, Zagorac 27 (7 rebounds, 4 assists, index 40), Simeunovic (4 rebounds), Nikolic 16, Janković 17 (5 rebounds).
Photo: Budućnost VOLI/ ABA League