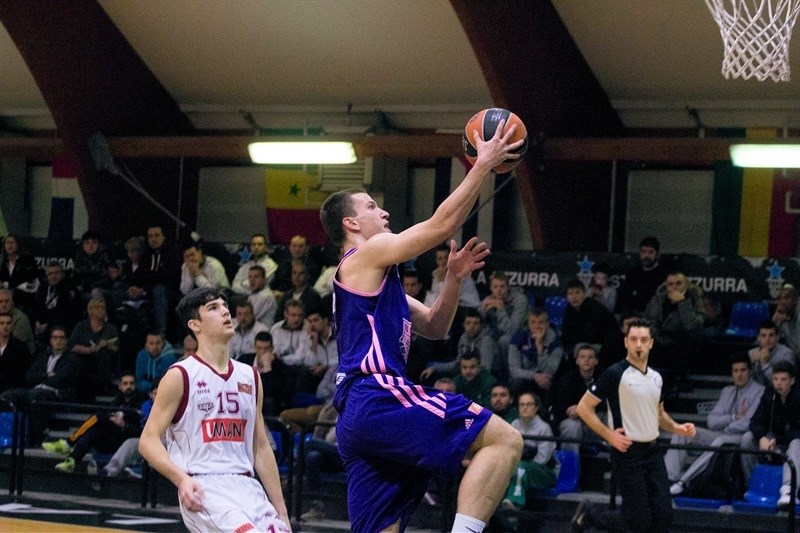 MIGHTY JUNIORS OF MEGA IN FINAL OF TOURNAMENT IN ROME
Juniors Mega Leks qualified for the final of the Junior Euroleague qualifying tournament in Rome because they were better than both rivals on Monday. Mega on the first match defeated Umana Reyer Venice to 67:77 and after that in the decisive duel overrun with Unicaja 87:44. In the final of "EUROLEAGUE BASKETBALL NEXT GENERATION ADIDAS TOURNAMENT" on Tuesday at 18 o'clock.
In the first  game Mega beat Umana Reyer Venice with 67:77 (15:22, 22:19, 17:18, 13:18). Players of Nenad Canak had plus 14 (17:31) at the beginning of the second quarter but failed to resolve game then and at half time was ended  37:41. The Italian team was able to take the lead in the third quarter with 52:51 but it was soon followed by a series of key Mege 0:10 which was acquired sure advantage which was kept until the end of the match. The best in the ranks of Mega in this match was Gogo Bitadze with 19 points (8-10 in two) and 6 rebounds in just 16 minutes.
Mega Leks: A. Matic 11, Miskovic, Music 7 (5 assists), Vojinovic 3, U. Matic, Pantelic, Pecarski 11 (13 rebounds), Aranitovic 12, Nedeljkovic 6, Virijevic 3, Plavsic 5 (9 rebounds), Bitadze 19 (6 rebounds).
In the second match from 18:30 Mega needed a victory from nine points of difference that would surely be enough to qualify for the finals while, with a victory with less than 9 points difference, Mega needed a triumph of Umana Reyer Venice against Armani Milano. Players of Nenad Canak not make any calculations and they beat Unicaja 87:44 (21:19, 17:8, 31:3, 18:14), winning the second and third quarter with a total of 48:11.
After the bad start of the match and 12: 5 for the Spaniards, Mega played much better and by the half came to a double digit lead, 27-38. The series continued in the second half (2:17) to plus 26, 29:55. The third period ended with a whopping 3:31 for 30:69 and until the end of the match the Mega routinely preserved the victory. The best in the ranks of Mega were captain Novak Music with 23 points (index 31) and Aleksandar Aranitovic with 19 points, 6 rebounds and 4 assists.
Mega Leks: A. Matic 5, Miskovic, Music 23, Vojinovic 13, U. Matic 5, Pantelic 3, Pecarski 8 (7 rebounds), Aranitovic 19 (6 rebounds), Nedeljkovic 3 (6 rebounds), Virijević 1, Plavsic 3 , Bitadze 4,
Novak Music: "The match against Unicaja was very difficult for us even though the result does not show that. From the first minutes we played very strong in defense and this is most evident in the third quarter when we received only 3 points. I congratulate my team on a very sacrificial game. Now we left to rest and prepare for tomorrow's final against Stelaazura".
Nenad Canak: "After the difficult situation in which we found ourselves after the first day, we expect the first match with the team Umana Reyer where we managed in the end to celebrate and to get a chance to decide on placement in the match with Unicaja. It turns out that morning was a little harder and when we crossed this step, we played even better. Against Unicaja we gave our best in defense of which we are primarily focused although we needed a victory from nine points difference that would certainly mean finals. With a great defense, in attack we went one possesion after anothe of which has yielded great results. We are getting ready for the finals where with victory we would  won a trip to Berlin for the final tournament".
Photo: Federico Rossini / Adidasngt.com