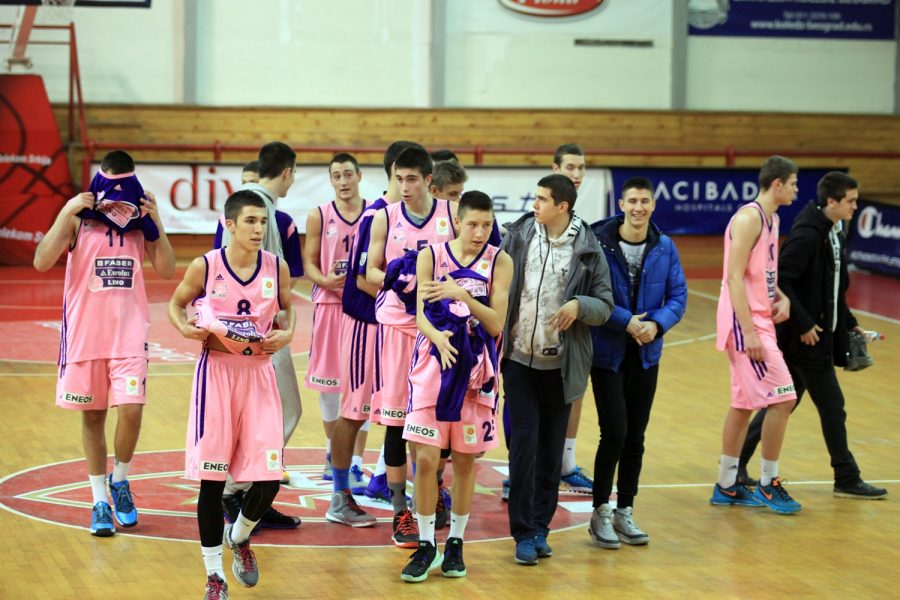 JUNIORS PRESERVED WIN AGAINST BORAC
Juniors of Mega Leks succeeded in thrilling finish to preserve the win against Borac Cacak since they celebrated with 88:86 (25:15, 24:20, 18:23, 21:28) within the 9th round of RODA Junior league of Serbia.
Players of Nenad Canak  had convincing lead during the most of the match, which went up to plus 21 (60:39) in the 25th minute but they relented in the last period. Borac over Mijuskovic finally had a chance to win but he were imprecise.
The best in Mega Lekse were reinforcement from the first team Aleksandar Aranitovic, who scored 29 points with 8 rebounds and 4 steals and Novak Music with 17 points and 8 assists
.
Juniors of Mega Leks are currently sharing the second place in Group A of Roda Junior league of Serbia with a score of 7-2.
Mega Leks: A. Matic 2, Miskovic , Plavsic 15, Music 17 (8 assists), Aranitovic 29 (8 rebounds, index 36), U. Matic, Pantelic 6, Kovacevic, Pecarski 11 (6 rebounds), Ilincic, Nedeljkovic, Bitadze 8 (5 rebounds).
Nenad Canak:
,,Extremely important win for us. We played 30 minutes very well, however, the team of Borac has demonstrated why they are the top junior team in Serbia. They played the same rhythm for 40 minutes, we could not break them but in the end we had a lot of luck, which we deserved. This victory is especially important due to the transfer of points in the second round. In future our real battle are yet to come".
Aleksandar Aranitovic:
,,We knew what kind of game to expect, the team of Borac is very good and they beat us in Cacak. That was our only motivation to beat them at home. I think in the end we deserved praise and we turn to the next game against Partizan".