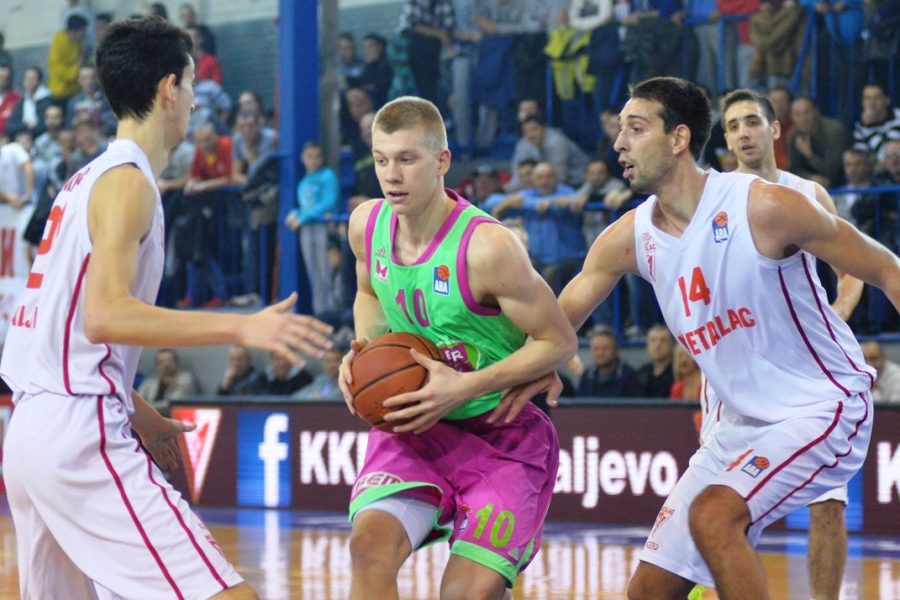 END OF WINNING SERIES, MEGA STOPPED IN VALJEVO
Players from Mega Leks in the 13th round of ABA Keague in Valjevo lost to Metalac with 83:76 (15:17, 20:14, 25:23, 23:22) and end the series of three consecutive victories. Although in most of the game they were trailing, Mega had the opportunity to reverse the match, but in the key moments allowed several offensive rebounds after it usually were followed by points. With the weak shooting for three (6 of 27) and a large number of turnovers (20), at the end there was not enough power for reversal.
Dejan Milojevic started the match with Jaramaz, Aranitovic, Luwawu-Cabarrot, Nikolic and Jankovic. The first point in the game scored Jaramaz after assists from Luwawu-Cabarrot. At the beginning of the match was seen equalized the game and after 5 minutes was 10:10 with threes from Aranitovic and Nikolic and the first quarter ended 15:17.
The second quarter began with Jaramaz points from mid-range. Metalac with two triples came to the lead in the 13th minute, 23:21. In the following minutes teams exchanged basket but with bad rebounding Mega received several points and the result after 17 minutes was 33:27 for Metalac. However, in the finish of the second quarter, with four points Jankovic did not allow hosts to raise difference and to the rest went with 35:31 for the home team.
Metalac began the second half with a series of 5: 0.  Nikolic hit three but the home team after that came to the plus 11, 45:34. Aranitović scored with fouland then Ivanovic scored three for his first points and Mega came to minus 6, 45:39. At the scene then enters Nikolic with a basket and free throws and then Ivanovic hit all three free throws and three for minus 1, 50:49. Metalac returns from the free throw line but Nikolic hit a new triple for 52:52. However,Mega played badly in the finish of third quarter and in the last 10 minutes went with 60:54 for Metalac.
At the beginning of the last quarter Mega in a couple of times tried to reduce the difference to one basket with no success so in the last 5 minutes entered with 71:62 for Metalc. Mega managed to reduce to 5 now but in the next attack allowed offensive rebound after which Bakic hit a key three pointer for 78:70 in the 38th minute.By the end of the match Mega failed to jeopardize the victory of the home team.
After 13 rounds Mega have a score of 9-4 while Metalac have 5 wins and 8 losses. In the next round on 14th of December Mega Leks host Crvena zvezda Telekom at 9 pm.
Mega Leks: Aranitovic 12, Djokovic, Jaramaz 8 (5 rebounds), Veljkovic, Ivanovic 13 (5 rebounds), Pavlovic, Luwawu-Cabarrot 8 (5 assists), Kaba 4 (6 rebounds), Simeunovic 8 (6 rebounds), Nikolic 15, Jankovic 8 (6 rebounds).
Metalac: Kocovic, Malesevic 11, Badinovac, Campara, Kutlesic 20, Jankovic, Jevtović 16, Josilo 11, Rakicevic 6, Bakic 5, Gabric 14.
Aleksandar Aranitovic: "I congratulate Metalac for deserved victory. We knew what kind of game expected, we had a lot of turnovers that they are put to best use, with easy points from counter attacks. We turn to the next matches in which we willtry to win".
Dejan Milojevic: "I congratulate Metalac for win, today they were better than us. We made a plan that we failed primarily due to the fact that the Metalac today played more aggressive than us. They resolved our pressing easier than it seems. We had 20 turnovers, of which at least 10 were in a situation where they could have 1 to 0 for easy points. When with all this we allow 12 offensive rebounds to opponent and when the two best players shot 4 of 24 in the game, you can not expect to win.We have to train hard, raise our form and get as many matches. We have a tough schedule ahead of us and we have to play far better than tonight to get to victory in these games".