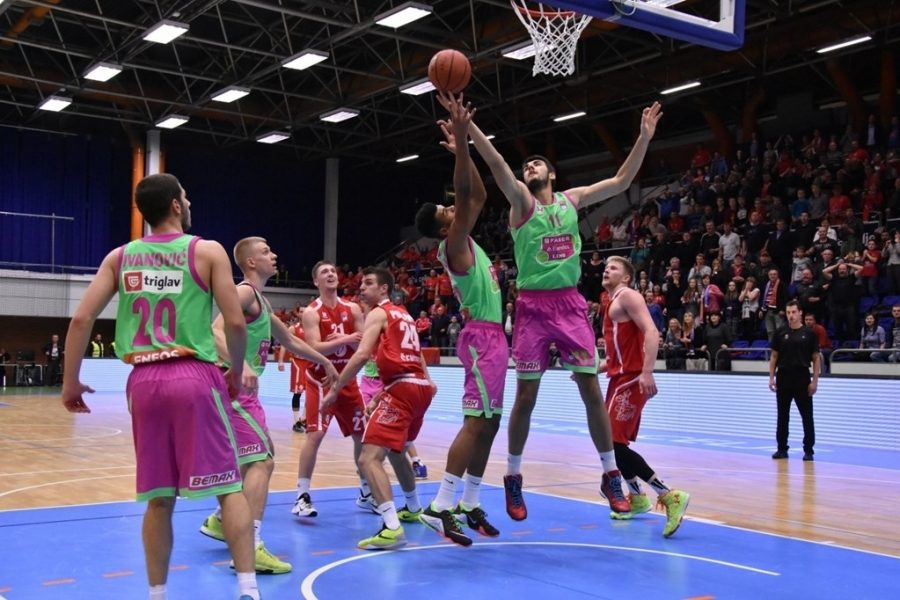 WIN OF MEGA IN CELJE FOR RECORD AND THE FIRST PLACE
Players from Mega Leks in the 7th round of ABA league won in Celje against Tajfun with 60:64 (7:17, 16:16, 20:13, 17:18). Mega has led throughout the match with 15 points difference but the guests managed to turn and take lead in the fourth quarter. However, a great defense in the decisive moments again brought victory for players of Dejan Milojevic. This is 4 consecutive win for Mega in the ABA league which is a record since the club to compete in the regional competition. The success is even greater if one takes into account that the team of Mega Leksa in this match was on average seven years younger than the team of Tajfun, 19.8 compared to 26.8 years of home team. Zagorac, Kaba and Samardziski were out because of injuries.
Dejan Milojevic decided on the following starting five: Jaramaz, Luwawu-Cabarrot, Simeunovic, Nikolic and Jankovic. The first points of the match scored Janković with plus one. Players of Dejan Milojevic showed good defense at the beginning of match and Mega after 6 minutes took lead with 4:11 while Nikola Jankovic scored 9 points. The Tajfun was failing to respond to aggressive defensive play Mega and, after lay-up of Ivanovic, the result after the first quarter 7:17 with 13 points of Jankovic.
Jaramaz hit three pointer for +13 but Tajfun corresponds with series 6:0. However, the Mega does not allow reversal yet in the coming minutes via points Ivanovic and Nikolic held the advantage. In the second half quarters followed by a new rush home team and is Milojevic requested timeout with the score 21:26. Immediately following the attack Ivanovic finds great Jankovic and then Jaramaz employs the same pass for a dunk. Ivanovic three after 19 minutes returned double-digit lead to Mega Leks, 23:33 and this result has completed the first half. After a brilliant first half Ivanovic in the last round against the MZT when he scored 18 points, today was excellent Jankovic with 19 points and 9 of 12 for for 2 points.
Nikolic three opens the second half and then Ivanovic hits both free throws for plus 15, 23:38. Ivanovic and Jankovic has continued to collaborate for th new dunk of center of Mega Leks. After a jump in the attack of Tajfun, Luwawu-Cabarrot effectively blocked shot but home side hit three consecutive triples and reduced to 2 points difference 41:43. In last 10 minutes after the block Simic, result was 43:46.
Tajfun took lead in 32. minute in the match, 50:48. Luwawu-Cabarrot affects a very important three pointer and then Ivanovic steals the ball with a lay-up for plus 1 for Mega, 52:53. Tajfun binds 2 shots and the last 5 minutes of the game comes on with 56:53. Luwawu-Cabarrot he steals the ball and assists Jaramaz. After block of  Luwawu-Cabarrot, Nikolic hits a three for new equalization, 58:58. Jaramaz hit another lay-up with contact, 60:62 in the last minute. Tajfunr from two attacks fail to settle a score after the new and decicive block of Nikolic. At 3.1 seconds to finish a foul Nikolic hits both free throws for a new victory of Mega.
After 7 rounds, Mega Lex has a score of 5 wins and 2 losses. In the next round 8 of the ABA league, Mega on 30th of October at 9 PM welcomes Sutjeska.
Mega Lexks: Simic, Aranitovic 2 assists, Djokovic, Jaramaz 12 points and 4 rebounds, Veljkovic, Ivanovic 13 points and 4 assists, Pavlovic 1 point and 5 rebounds, Luwawu-Cabarrot 5 points, 4 rebounds and 5 assists, Simeunovic 3 rebounrs, Nikolic 10 points, 3 rebounds and 2 blocks, Jankovic 23 points and 10 rebounds.
Tajfun: S. Sebic, Sebic M., Tomic, Drzic 2, Cebular 20, Zimić 6, Bratoz 11, Clark 2, Ponjavic 8, Drobnjak 5, Bolcina 2, Parker 4.
Ognjen Jaramaz: "We opened the game and had a 10-point lead. We controlled the game in the first half unlike the secon, where we made mistakes in the attack. However, we played maximum in the defense and get to a well-deserved victory. Congratulations to Tajfun on the game, it was a great atmosphere in the hall but congratulations and my teammates on this win".
Dejan Milojevic: "Congratulations to Tajfun, I have agreat respect for the work of my colleague on their bench. With a little dose of luck in some games, they could have a better score in the ABA league. I congratulate my players, we are young team but they played very unselfishly in the defense, which has become our trademark this season and thah annuled  a bad offensive game and we deserved a victory. After this match comes Sutjeska and I hope we can continue good run".
Photo: Mega Leks