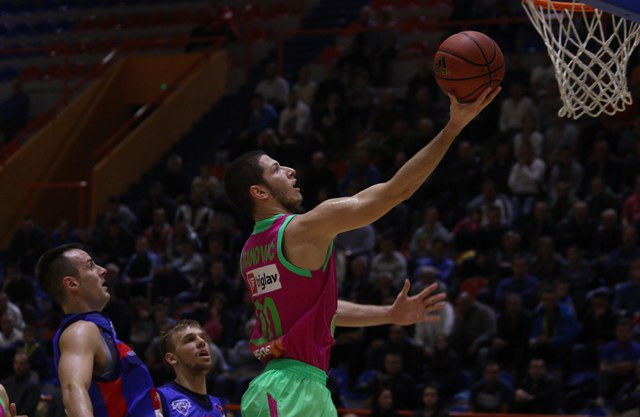 MEGA SHOWED CHARACTER, IGOKEA FELL IN EXCITING FINISH
Mega Leks after another upeheaval in a thrilling final won against Cedevita with 69:68 in the 6th round game in ABA league. Players of Dejan Milojevic, whose average age was 19.6 years tonight, were losing in the first half with 13 points difference but after a great third quarter managed to turn the result and finally to triumph without three injured players, Samardziski, Zagorac and the Kaba. The third victory in a row Mege from the stands were followed by youth selections of the team who came to support in this extremely important match.
Mega threads started off so guests quickly took the lead with 0:10. Ivanovic starts the match with two triples and managed to reduce the deficit to 4 points, but Buducnost responded with two hit by debris for 3 with the expiry of the attack and to the first break comes with 12:22.
Simeunovic opened the second period with points and foul. Guests have long maintained a double digit lead that went to 13 points difference but to finish with a good defense and easy points from counter attacks from Ivanovic and Luwawu-Cabarrot, Mega managed to reduce the deficit to 5 points. First half ended with 30:38 and especially good was Ivanovic, who scored 18 points.
Fantastic defense in the third quarter resulted in the first points for Igokea after 4 and a half minutes. After a dunk Jaramaz, Mega comes to plus 6  and in defense in particular pointed Veljkovic. The result before the last 10 minutes was 49:46.
Luwawu-Cabarrot opened the last period with two triples and Mega Leks managed to reach double-digit lead, 60:50. The visitors did not give in and, with a series of points and were able to reach the exciting finish. Missed opportunity to resolve before the match the visitors were not able to punish because Capin and Radivojevic missed for 3 points, andMega deservedly took the victory.
Mega Leks: Simic, Aranitovic 2, Djokovic, Jaramaz 7 points and 4 steals, Veljkovic 3 points and 6 rebounds, Ivanovic 25 points and 8 assists, Pavlovic, Luwawu-Cabarrot 15 points and 7 rebounds, Simeunovic 6 points and 6 rebounds, Nikolic 9 points and 8 rebounds, Jankovic 2 points and 8 rebounds.
Igokea: Pasajlic, Dimic 2, Capin 4, Pesaković 3, Kesar 8, Komatina 9, Mikulic, Milosevic 3, Radenovic 20, Radivojevic 17, Talic, Todorovic 2.
Next up game  for Mega Leks is on Friday 23th of October, when they will play away match against Tajfun.
Nikola Ivanovic: "We were faced with problems that we had in the previous rounds. We started poorly, but congratulations to the whole team for the strong character and whole third quarter. Extremely tough match and an important victory that will mean a lot to us in the field of self-confidence. After a heavy schedule at the beginning of the season we have a chance to upcoming two rounds of good quality play two matches against Tajfun and Sutjeska and make a positive outcome in both matches. "
Dejan Milojevic: "A very important win for us. The team showed character. We had problems with taking players the defense and it took us a little time to adapt. Also not fired us not served in the first half because we shot 2/16 for 3 points. However, in the second half we played better and better. The defense has really been great. I congratulate the players on the sacrifice, and the figure of 20 offensive rebounds is always an indicator of the fighting spirit of the team. For such a large grit have been awarded a victory by one point. I wish Igokea all the best for the season, I think they play great and that they are serious contenders for a place in the play-offs. "
PHOTO: Mega Leks