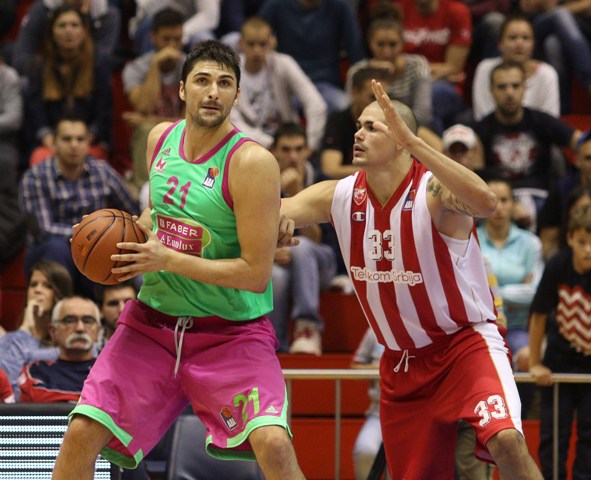 SAMARDZISKI:"MEGA POTENTIAL"
The youngest team of the regional competition continued with good games and victories in the ABA league. Mega Leks is the difficult game in Zadar defeated the home team with 81:76 and thus entered the third triumph at the start of the season. In a match in Dalmatia, coach Dejan Milojevic except high fighting spirit, aggressive defense and a variety of games in the attack, wgich showed more quality. In moments when cracking a result, they played very smart and did not succumb to pressure. When Zadar had a lead 63:62, they made a 9:0 with hit three consecutive threes which was acquired advantage for a smoother finish. The finish were masterfully played by Timothe Luwawu-Cabarrot that in the absence of the injured Zagorac established itself as leader and in Zadar had great support from all team-mates, primarily Jaramaz and Ivanovic.
As the season progresses better games provides Predrag Samardziski who in the fifth round of ABA league had 10 points, 5 rebounds and 2 great blocks. Samardziski was injured in the fourth quarter, when in a duel with an opponent took massive hit in the nose, but after a medical intervention insisted on returning to the field and finished with good defense which was of significant benefit for the team:
"Because of the bleeding from the nose after a clash with an opponent, I had to get out of the game. Every second out of parquet in those moments when the game was tied had been too long for me. Upon completion of doctor's intervention was adamant to get back in the game as the team headed off with her best and I felt a responsibility to be at the coach's disposal until the end of the game"
started his story Samardziski and added:
"Victory in Zadar is of great importance for this young team, primarily as a reward for hard work and an incentive to continue the season. This is absolutely a triumph of the collective, but I have to commend Luwawu-Cabbarot who in the finish with two consecutive triples started the whole team. Also, his fantastic dunk over Ramljak beat us further instilled confidence. It was a fantastic move that best explained by the fact that his extraordinary talent monitor and outstanding physical qualities",
emphasizes Samardziski.
Center of Macedonian national team praised other team-mates too:
"Players of Mega have enormous potential and I think that they  still are not aware of it. However, with coach Milojevic, they will best be able to understand and I am sure they will all be more aware that with every game. I must admit that I had never played in a team that has so much talent in one place and that is why I am proud to be part of this team".
On cooperation with the coach Milojevic, Samardziski says:
"With Dejan I played when I was 18 years old at Partizan and even then I learned from him, because we all know how good player he was. Now he's teaching me as a coach, has great authority among the players arising from his knowledge and dedication. Really has a huge potential coaching because their gaming experience have great benefits in training. We have an excellent relationship and a it means a lot for me to work with him".
Samardziski pointed out that before the start of the season he had other offers, but when it appeared the ability to amplify Mega Leks, he didn't think a lot:
"I knew that I would have the great advantage of working in Mega, that was in the past proved in many cases already, and the best examples are Bobi Marjanovic who has become the best center in Europe and is now in San Antonio and Nikola Jokic, who in a very short time from a guy who has not been heard, made it to the NBA. Here were completely rehabilitated Novica Velickovic and Marko Keselj, guys that have great ratings in Europe. In addition Milojevic, there are former players Veselin Petrovic, assistant to the coaching staff, then Nenad Canak, who works with juniors and Goran Cakic as sporting director. All of carry a rich gaming experience that is often extremely important and know how to help at the right time".
The atmosphere in which the work is something especially good Samardžiski:
"For the first time in my career I am in a club where everyone is aware that this is a young team that is going to grow, that patience is necessary. Each player has a role to play in the team and everybody's happy, which contributes a great atmosphere. They are aware that the high quality work all the progress and the compound talents, the quality of work and patience for the results seem Mega unique. We have excellent conditions for work and I feel very good here. I never had the opportunity to play in a club where there isso much trust in young players and where they have a chance and this big space. By that Mega is great and deserves all the praise. They are all good guys who, I believe, will have a great career",
concluded Samardziski.
Photo: Mega Leks