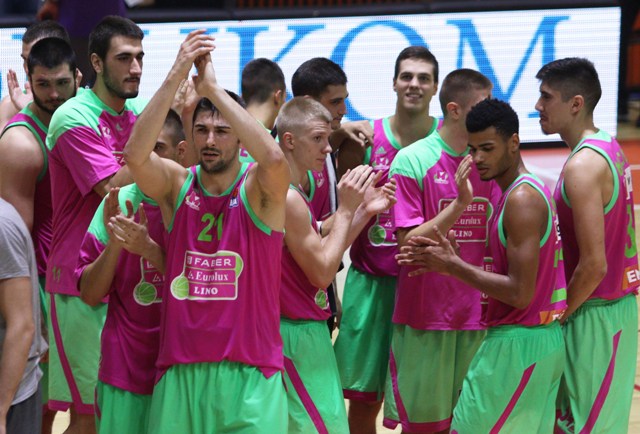 PAVLOVIC:"WE NEED MORE CONCENTRATION IN GAME"
Two days after the match in Podgorica, Mega Leks will on Friday 9th of October at 5 pm play a game of 4th round of ABA league against the Macedonian team MZT Skopje Aerodrom. Mega in Podgorica almost reached the big turnaround when the reduced difference to only 4 points in the last quarter, however, in finish they ran out of concentration and Buducnost won. Rade Zagorac and Apha Kaba while Nikola Ivanovic is uncertain for this match.
Dejan Milojevic first commented the match in Podgorica:
"We played a very poor game in attack and lost a large number of balls. A good defense in the second part of the game gave us a chance to win the match but, after that we stopped in the attack, Buducnost has hit a few shots and at the end deservedly won".
Mega Leks and the MZT both have one victory from the first three rounds. In ABA league were so far they met four times and both teams in these matches preserved home-court advantage. Mega Leks last season celebrated in Sremska Mitrovica with 103:95 after overtime.
Dejan Milojevic emphasizes that the MZT quality opponent:
"MZT is a very good team with a good coach on the bench. They were convincing against Metalac and in Pionir against Partizan they were on the verge of victory. The distance between the two games is a little more than 40 hours but I believe in recovery of my team. We have little time to prepare the match on training. If we play our game, I think we can beat anyone".
Nikola Pavlovic points out that Mega has to reduce the number of turnovers:
"We need to have much better opening match than it was in Podgorica. We need more concentration in the game to correct mistakes and reduce the number of turnovers, with far better rebounding. We are a young team and I believe we will progress from match to match".
The match is scheduled for Friday, October the 9th at 5 pm in the Hall PSC Pinki in Sremska Mitrovica and the entrance to the match is free, with a live broadcast on TV Arena Sport.