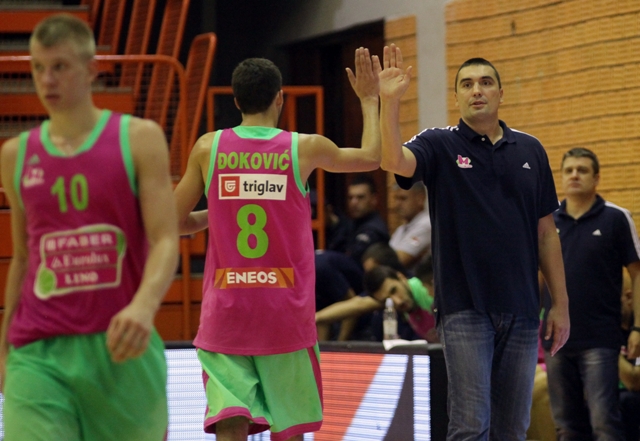 MEGA LEKS START WITH THE CHAMPION!
Mega Leks on Thursday begins third consecutive participation in the ABA league game against winner of regional competitions from last season, Crvena zvezda Telekom. The match is scheduled at 9 pm in Pionir Hall with live broadcast on Arena Sport TV.
Match against Crvena zvezda Telekom will miss out due to injury the French international player Alpha Kaba. Mega Leks will at the premiere of the new season in the ABA league for the first time participate in a guest set of jerseys with colors that are probably unique within Europe.
"We had a good preparation, but the injuries represented the biggest problem. We didn't manage to be complete at any moment and still we miss some players. I hope that our situation on that side will fix in the future",
begins the story coach Dejan Milojevic, who will this season have the youngest team in the ABA league with an average of 20.2 years.
Mega has previously played many exciting matches against Crvena zvezda. The last match was in the semifinals of the playoffs of Superleague last year when team of Dejan Milojevic in the last seconds had a shot to win, but at the end of Zvezda won by 89:90.
"We are expecting a tough schedule at the start of the league",
continues the story Milojevic.
"First, we are facing a visit to Zveda then we host Partizan in Sremska Mitrovica and then we travel to Podgorica. However, in such games at the end we can only win, because these young guys mean a lot to play against such a strong team. In any case, Crvena zvezda is the favorite in this match. In the duel with the champion of the ABA league we are entering relieved, but with the desire to play quality basketball and I hope that my players show talent which they possess. If  Zvezda allows us with their game and to show us the slightest chance, we will try to win, which would be of enormous and multiple significance for our young team",
said Dejan Milojevic.
Captain of Mega Leks Rade Zagorac eagerly awaits the start of the ABA league:
"Good, we have worked in the past, where we are next to youth and energy in the pre-season and showed adequate quality wins over teams Buducnost, Trabzon and Karsiyaka. I believe that we will be able to equally deal with all the teams, although we by far the youngest team ABA league. Crvena zvezda is the favorite in the first round and I very respected them because they have a very strong and experienced team, but we have a huge motivation. We cannot wait to start the game",
finished Zagorac.
Photo: Mega Leks