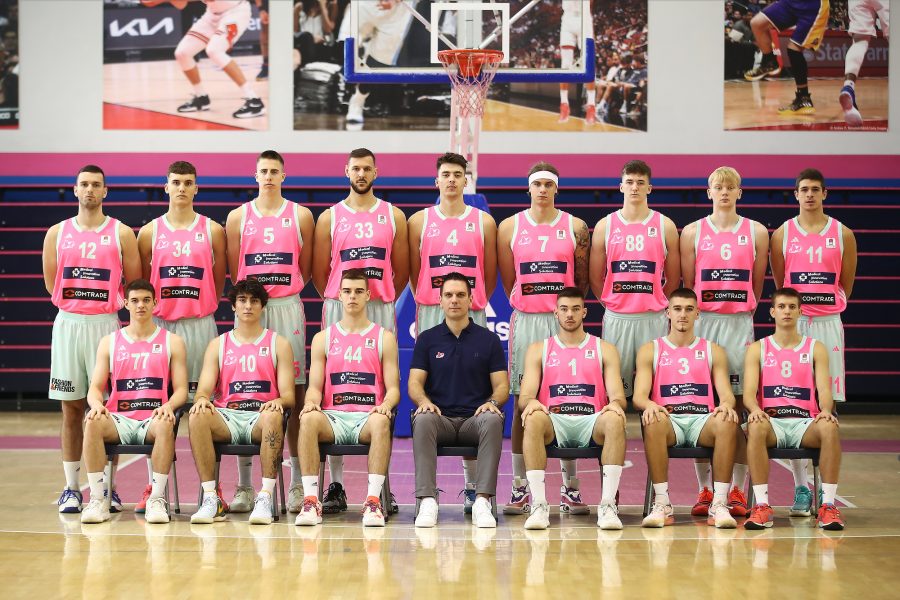 MEGA MIS STARTS THE NEW SEASON IN ABA LEAGUE WITH AN AWAY GAME AGAINST CEDEVITA OLIMPIJA, BARAĆ: 'THE MOST IMPORTANT PART BEGINS, I BELIEVE THE TEAM WILL IMPROVE GAME BY GAME'
The basketball team Mega MIS will face Cedevita Olimpija in the Stožice arena in Ljubljana on Saturday, September 30th, at 6:00 pm, as part of the first round of the ABA League for the 2023/24 season, with a live broadcast on TV Arena Sport.
Marko Barać's squad started preparations for the new season on July 24th. They began with two tests against the University of Southern California in Mykonos, followed by several friendly matches in Belgrade before participating in the ABA Super Cup, where they finished in fifth place. In the final warm-up match before the start of the regional competition, they defeated Tamiš at the Mega Factory arena.
Barać is satisfied with the progress made during the summer and believes that his young team will continue to improve throughout the upcoming season. He is also aware that Mega MIS faces a tough challenge against the Slovenian champions in the very first step:
"After completing our preparations and participating in the ABA Super Cup, where we had several excellent tests, our next challenge is the first game in the ABA League against the excellent team Cedevita Olimpija. They have a very high-quality and experienced EuroCup team, with an equally experienced and high-quality coach on the bench. In preparing for this match, one of the most important things was to forget about our encounter at the ABA Super Cup in Podgorica and to expect a completely different team in Ljubljana compared to that match. Now, the most important part begins, and I certainly believe that my young team will grow from game to game and, with hard work and a quality approach, succeed in achieving the goals set before them," said Barać.
Mega MIS player Stefan Miljenović emphasizes that his team must give their all if they want to achieve a positive result in Ljubljana:
"We are facing a very difficult away game, perhaps one of the toughest in the league. Although we recently defeated Cedevita Olimpija at the Super Cup in Podgorica, we are aware that we are up against a very experienced team, and a completely different game awaits us. We have worked diligently and prepared, and if we give our maximum effort, I believe the result will follow, and we will start the new season with a victory," added Miljenović.
Photo: Mega MIS