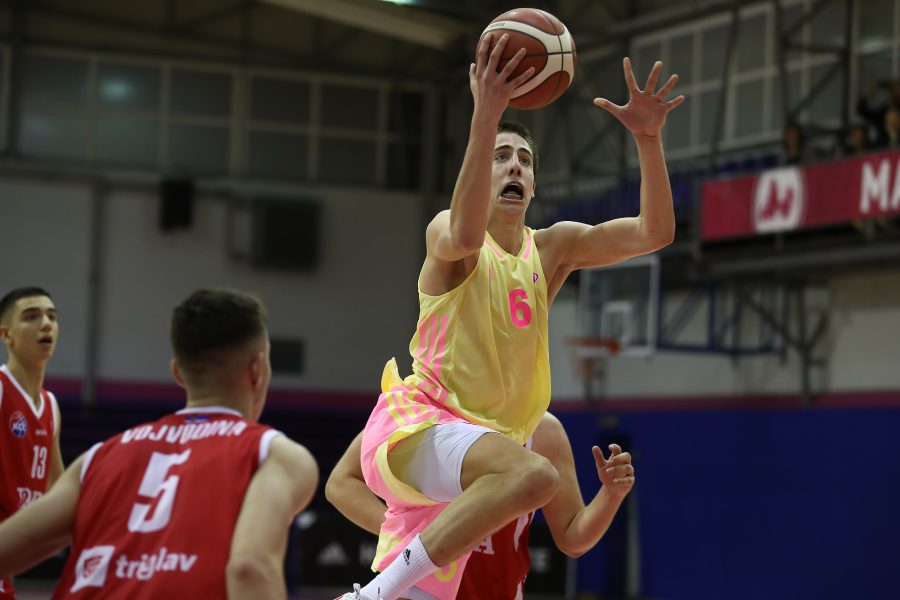 U19 MEGA MIS EASILY GOT TO 18TH STRAIGHT VICTORY, BOGOLJUB MARKOVIĆ DOMINATED WITH 30 POINTS AND 20 REBOUNDS
U19 Mega MIS continued to win in the Roda Junior League of Serbia, as they achieved their 18th triumph in the 18th round. They defeated the Vojvodina team in the small hall of Spens, and after 40 minutes the score was 75:101 (16:21, 26:32, 15:26, 18:22). The chosen ones of Dragoljub Avramović slowly built an advantage. From a nine-point lead in the middle of the first quarter, they broke away to 14 points at the end of the second and met the big break with a plus 11. They took off in the third period, grabbed a lead by more than 20 points, and when they opened the decisive quarter with 79:57 surplus, there was no way back for the hosts.
Bogoljub Marković excelled once again. The most valuable player of the Junior league so far confirmed that epithet with another phenomenal game, as he scored 30 points and 20 rebounds in less than 24 minutes on the floor against Vojvodina. He shot 10/17 for two, 2/4 from beyond the arch and 4/7 from the penalty line, he also recorded two assists and steals, three blocks, for a total PIR of 48.
He was accompanied by Asim Đulović with 17 points and eight rebounds, Danilo Dožić with 12 and nine boards, as well as Abdramane Siby and Luka Savanović with 11 points each.
In the next round, the juniors of Mega MIS welcome the Joker team.
Mega MIS: Šipčić 2, Gačić, Savanović 11, Đulović 18 (8 rb), Marković 30 (20 rb, PIR 48), Mušicki 6 (8 as), Kroflič 5, Zečević 2, Dožić 12 (9 rb), Srzentić 3, Siby 11, Milosavčević 2
Photo: Mega MIS