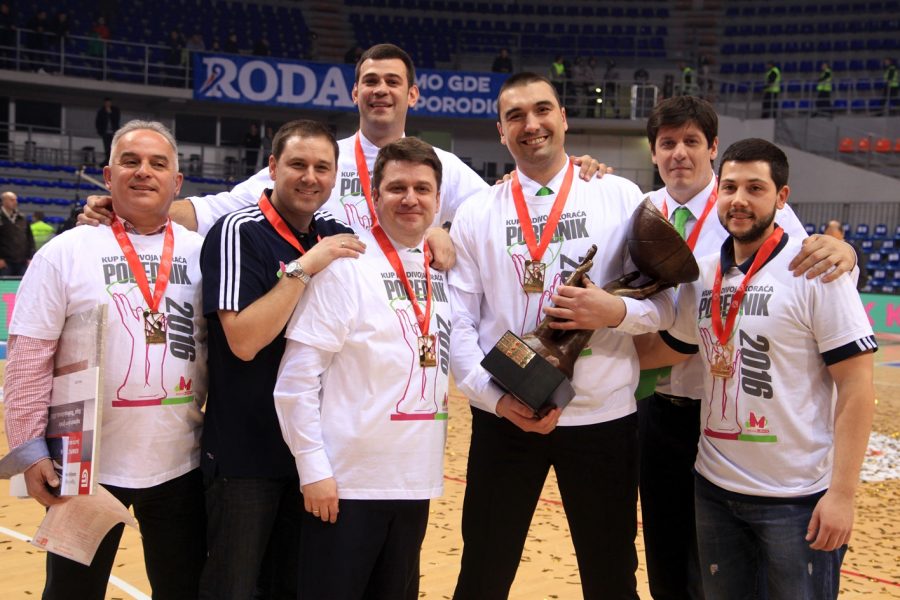 MILOJEVIĆ: "THIS TRIUMPH IS AN AWARD FOR GREAT EFFORT"
Third time lucky for Mega, it can rightly be said. Coach of this young team Dejan Milojevic with a win over Partizan in the finals of Korac Cup won the first trophy in club history. In the previous two finals Mega lost in uncertain finals, but this time in a thrilling finish deservedly won:
" It was an outstanding game in front of full hall and a fantastic atmosphere. We played great and as they. I think we have proven quality and once again showed that when we play strong defense we can won against anyone. We hope that this is not only a trophy but only the first of three this season", said after the match glossy power forward Danilo Nikolic.
Coach of Mega Leks Dejan Milojevic with a gold medal around his neck could not kept his smile off his face:
"I think that this victory came as a reward for hard work and good performances that we have provided since the beginning of the season. We are rewarded by the basketball engineers from above for all the efforts we have made this season. I really think that was a good match, and without wishing to give statements like that both teams deserved to win, I'm really sorry that both of us were not able to triumph", said Milojevic and then added:
"The whole match I was looking to speed up the game, the cost was to receive an easy baskets. When it came to the crucial moment we inserted two important shot and for Partizan was no time to get back into the match. I am glad that my team did not panic and remained calm in the moments when Partizan had six or seven-point lead. We have managed to escort them in defense, in the finish we hit shots they did not and we won. This is a sport".
Mega strategist on several occasions praised his colleague and great friend Aleksandar Dzikic and finally concluded:
"I think this is a real atmosphere in which players matures. Partizan was carried by the great support of the audience that really was their sixth player. My French at beginning took five or six minutes to get in the game because they have never played in this kind of environment. These are things that we do at this work. This is an emotion that can not be described. Joy when you win and sad when you lose is what keeps you going", concluded Milojevic.