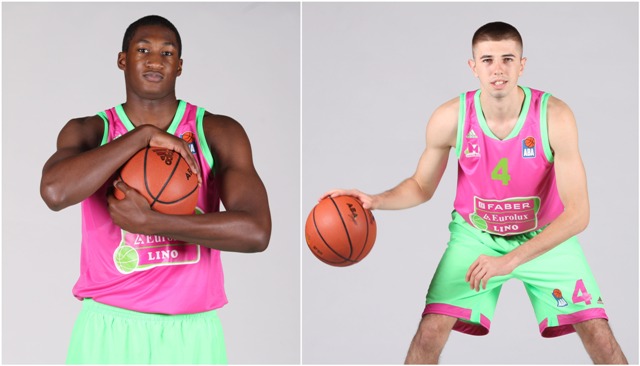 KABA AND SIMIC:"GREAT WIN"
Players from Mega Leks continued with excellent play in the ABA league. The youngest team of the regional competition with an average of only 19.6 years, from one game to another justify the epithet of the most pleasant surprise of the season altough it is often followed by bad luck with injuries. Players of coach Dejan Milojevic beat Olimpija 99:89, despite the fact that in the match in Ljubljana were weakened by the absence of Ognjen Jaramaz and Radovan Djokovic, as previously absent Rade Zagorac.
However, even in this difficult situation, the coach Dejan Milojevic had a ready answer. The greatest burden in triumph made a splendid Timothe Luwawu-Cabarrot with 22 points (14 of which in the last quarter), Nikola Ivanovic, who scored 19 and Danilo Nikolic with double-double performance (17 points, 11 rebounds). The role of the Joker in Stozice went to 19-year-old Stefan Simic, who replaced the injured Jaramaz great and for 10 minutes on the court, he enrolled in 11 points without a miss (4-4 for 2 and 1-1 for three-point).
"I was waiting for my chance and I believe that I have helped the team to record an important win. We all are working hard at  the training and we are waiting patiently for the opportunity, knowing that it will eventually come because Mega is a club that invests a lot and believes in young players. Most importantly is that such a concept provides the results, the team wins, growing from match to match and is consequently a great atmosphere in the team",
Simic said whose match in Ljubljana was first as a starter:
"I felt a little pressure, but only until the start of the. And then, everything suddenly disappeared. Teammates and coach poured me sureness and I had a great feeling on the ground. It is enjoyment to play in the team where everyone is constantly exhorting each other. We were not afraid even when we were behind by 11 points. That was our motive, to play more aggressively and to put much more energy in order to make the reversal. In this match we succeeded, we played very well and deserved the win".
Simic noted, who with great success plays on dual registration in the Second division for Srem where he gained much needed experience in senior competition.
In the clash with Olimpija uniform of Mega debuted Alpha Kaba who was absent due to injury a month and a half:
"I think I played a good match considering the long break I've had. I didn't score a lot of points, but I tried to defend and to rebound, fulfilling what the coach asked me. I expect to raise form as time went on because we really train great",
says Kaba.
Mega will after defeating Olimpija, again spent the night in first place of the ABA league. Win in Ljubljana was the eighth in the regional competition from the beginning:
"Even when we started training at the beginning of preparation I believed that this young team can achieve a lot. However, at some point I thought that because of numerous injuries, we will have a problems. However, we managed to get through it all so I overjoyed with the result and all that we have achieved so far",
said Kaba and then once again referred to the match in Ljubljana, Slovenia:
"Although we received 89 points, our defense was at a high level. We kept the pendulum rhythm, were aggressive during all 40 minutes and it has brought results. Tim Luwawu was again brilliant in the fourth quarter, and his two consecutive triples have provided us a much-needed confidence in the finish of the game. The whole team was breathing as one, and once again, we as a group were able to compensate for the absence of several players which is another our victory",
concluded Kaba.