BIOGRAPHY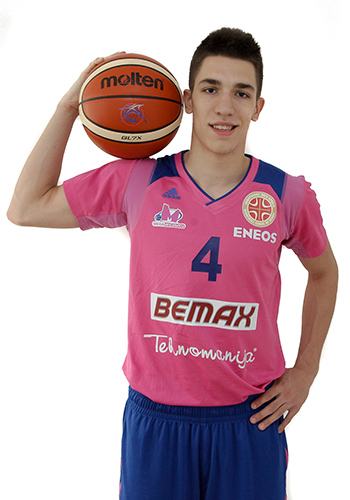 He debuted for first team of Mega in the season 2015/2016. Before basketball, he had practicing swimming, and playing with ball for basket began since he was nine. He began to train in BC Zemun M.Invest and without doubt he inherited talent ifrom the mother who had played for Partizan.
Novak Music was the top scorer of the final tournament of the championship of Serbia in the pioneer category with an average of 32 points per game and average index rating of 37. This was the best recommendation for move to Mega Leks. He was a member of the cadet national team that in 2014th at the European Championships in Riga came sixth. Injuries prevented him from fighting for a place in the junior selection of Serbia in 2015.
In the 2016/17 and 2017/18 seasons he gained experience playing on loan for Smederevo and Beovuk in order to play 2018 SuperLeague for Mega. Last season he played for OKK Belgrade with a short loan to the Igokea ranks towards the end of the ABA League.
CAREER
2014- Mega Bemax
2016/17 – Smederevo
2017/18 – Beovuk
2018/19 – OKK Beograd
2019 – Igokea (loan)
Player stats for season 2018/2019
Season: 2018 Superleague (Serbia)
TEAM
G
MIN
PTS
2FG
3FG
FT
RO
RD
RT
AS
PF
BS
ST
TO
RNK
Mega Bemax
11
13.6
2.6
59-106
12-30
51-68
0.5
0.9
1.4
2.9
2.4
0.1
0.4
0.6
3.5
Season: 2017/2018 Serbian Basketball League
TEAM
G
MIN
PTS
2FG
3FG
FT
RO
RD
RT
AS
PF
BS
ST
TO
RNK
Beovuk 72
25
18.5
8.2
59-106
12-30
51-68
0.8
1.7
2.5
2.2
3.1
0.1
1.5
1.4
9.7
Season: 2016/2017 Serbian Basketball League
TEAM
G
MIN
PTS
2FG
3FG
FT
RO
RD
RT
AS
PF
BS
ST
TO
RNK
Smederevo
24
27.8
11.7
78-152
15-64
79-113
0.6
2.2
2.8
3.0
1.7
0.1
1.5
3.5
11.8