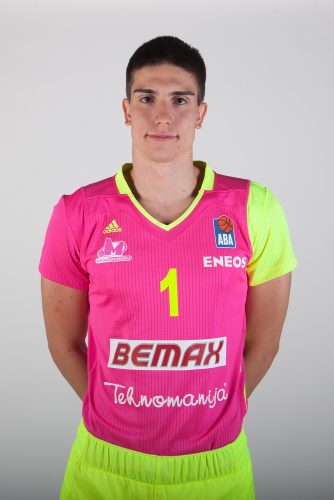 Biography
Nikola Miskovic was born on January 25th, 1999. In Torun, Poland, he is 207 centimeters tall and plays on positions 3 and 4. He won the Serbian championship with the cadets of Mega in 2016, which was the first title for the youth categories of the club. In the 2016/17 season he led juniors of Mege to second place in the Junior Euroleague Final in Istanbul, and won the second place in Serbia.
He performed for the cadet and junior national team of Serbia, and he won the gold medal with Serbia U18 at the European Championship for players up to 18 years old, which was held in 2017 in Slovakia. In the mentioned tournament he was selected for the MVP of the championship, where on average he had 12.6 points and 5.9 rebounds. In addition, Miskovic has been a participant in numerous prestigious camps, such as George's in New York in 2015 and "Basketball Without Borders" in 2016.
Father Dejan was a famous basketball player who played for many clubs and brother Novak is performing for the youth categories of Mega Bemax.
Career
2013- Mega Bemax
Player stats for season 2018/2019
Season: 2019 Serbian Superleague
TEAM
G
MIN
PTS
2FG
3FG
FT
RO
RD
RT
AS
PF
BS
ST
TO
RNK
Mega Bemax
8
28.3
16.0
23-41
18-54
28-36
1.3
3.4
4.7
3.8
2.6
0.6
2.1
3.0
17.0
Season: 2018/19 ABA League
TEAM
G
MIN
PTS
2FG
3FG
FT
RO
RD
RT
AS
PF
BS
ST
TO
RNK
Mega Bemax
22
23.0
11.6
48-110
30-93
70-92
1.2
2.9
4.1
1.2
2.2
0.3
1.0
1.8
9.7
Season: 2018 Super League (Serbia)
TEAM
G
MIN
PTS
2FG
3FG
FT
RO
RD
RT
AS
PF
BS
ST
TO
RNK
Mega Bemax
13
22.4
9.0
42-77
5-25
28-37
1.0
3.2
4.2
2.2
2.0
1.1
0.4
1.4
8.9
Season: 2017/2018 ABA League
TEAM
G
MIN
PTS
2FG
3FG
FT
RO
RD
RT
AS
PF
BS
ST
TO
RNK
Mega Bemax
2
12.5
10.0
5-6
3-5
1-1
0.5
1.5
2.0
0.5
0.5
0.0
1.0
3.5
10.0
Season: 2016/2017 Roda Juniorska liga Srbija
TEAM
G
MIN
PTS
2FG
3FG
FT
RO
RD
RT
AS
PF
BS
ST
TO
RNK
Mega Bemax
23
28.4
19.0
122-211
41-118
71-97
1.6
4.3
5.9
2.5
2.1
0.5
1.8
3.1
20.1
Season: 2017 U18 European Championship
TEAM
G
MIN
PTS
2FG
3FG
FT
RO
RD
RT
AS
PF
BS
ST
TO
RNK
Srbija
7
28.0
12.6
28-67
5-19
17-17
2.1
3.8
5.9
1.3
2.0
0.4
1.1
2.9
10.9
Season: 2016/17 Junior Euroleague
TEAM
G
MIN
PTS
2FG
3FG
FT
RO
RD
RT
AS
PF
BS
ST
TO
RNK
Mega Bemax
8
28.7
15.9
42-77
5-25
28-37
1.6
4.2
5.8
2.4
1.9
0.3
1.5
3.6
15.3